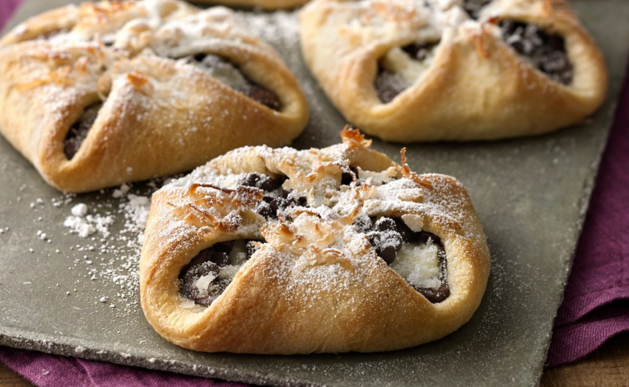 These cream coconut mocha hazelnut pastries are great for breakfast or brunch, with your favorite cup of coffee or latte. They are simple to make yet delicious with a perfect level of sweetness. 
I remember making this on the weekend for a picnic gathering, and I love how my family enjoyed them. They are simply delicious.
Ingredients for Creamy Coconut Mocha Hazelnut Pastries
½ cup flaked coconut
4 ounce cream cheese, softened
1 teaspoon Pillsbury BEST® All Purpose Flour
1 can Pillsbury™ refrigerated Crescent Dough Sheet
½ cup Jif® Mocha Cappuccino Flavored Hazelnut Spread
¼ cup miniature semisweet chocolate chips
1 tablespoon powdered sugar 
How to Make Creamy Coconut Mocha Hazelnut Pastries
Preheat your oven to 190°C / 375°F and then reserve 1 tablespoon of flaked coconut to be used as toppings later. Beat cream cheese and coconut on medium speed until well-combined. Set aside.
Dust flour on your work surface before unrolling the dough over. Press into a 12 x 7 1/2-inch rectangle and then cut it into 6 squares. Put about 1 tablespoon of hazelnut spread on each square within ½ inch on edges. Next, add 1 tablespoon of coconut mixture and about 2 teaspoons of miniature chocolate chips on top of the spread.
To seal the dough, bring all corners of the square in the center, over the filling, and pinch. Sprinkle top with the reserved flaked coconut. Bake for 11 to 15 minutes or until the surface turns to a golden brown. Let them cool for at least 10 minutes before you grab your sifter to sprinkle powdered sugar. You can serve them warm or cool.
To see the original recipe that inspired this one, check out the recipe for Creamy Coconut Mocha Hazelnut Pastries found at pillsbury.com