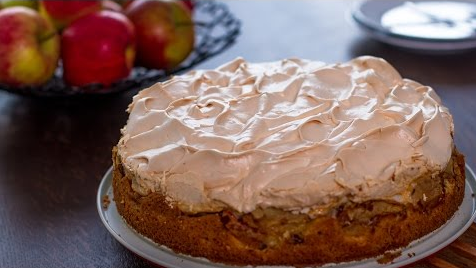 This gorgeous and delicious dessert is perfect for any time of the year. With a soft and bouncy meringue topping and a touch of cinnamon, who doesn't love this cake. This recipe makes about 8-10 servings, but I recommend you make a few batches because this cake just tastes wonderful, you will run out immediately.
It was at lunch at this small but cozy caféthat I want a dessert to go along with the mocha latte that I ordered. Just looking at the picture, I'm hooked, and I was not disappointed. I immediately go into research mode once I got home and came up with this recipe that I want to share you.
I realize when I did the research for this recipe, almost every recipe has a bit of variation to them, some add cinnamon, some don't, others cook the apples to make them more tender, etc. Keeping that in mind, I want you to also make your own variation to it, incorporate something that you like, and surprise yourself.
Ingredients for Tasty and Beautiful Apple Meringue Cake
APPLE FILLING:
4-5 medium apples (peeled and sliced)
1/2 lemon (juiced)
1 teaspoon cinnamon
4 tablespoons (30g) flour
CAKE BATTER:
2 cups (250g) flour
2 1/2 teaspoons (10g) baking powder
1/4 teaspoon salt
1 stick (113g) butter (room temperature)
3/4 cup (150g) sugar
4 egg yolks
1/4 cup (60g) sour cream
1 teaspoon vanilla extract
grated zest from 1 lemon
MERINGUE:
4 egg whites
3/4 cup (150g) sugar
How to Make Tasty and Beautiful Apple Meringue Cake
First, preheat your oven to 350 F. Next, peel and slice the apples. Transfer to a bowl. Add in the lemon juice, cinnamon, and flour. Shake to coat the apples and set aside. Mix the baking powder, flour, and salt in a bowl. Whisk to combine. In a different bowl, add the butter and sugar. Mix well and then add the egg yolks one at a time, sour cream, vanilla extract, and lemon zest. Add in the flour mixture and mix all together until well combined.
Prepare a 10-inch (26 cm) springform pan (with removable base)and grease with butter. Pour batter into the pan and arrange the apple slices on top. Bake for about 30 minutes. In the meantime, prepare the meringue. In a mixing bowl, whip the egg whites with a mixer until foamy. Add in the sugar gradually while whisking until it holds very stiff peaks.
Remove the pan from the oven. Add meringue (whisked egg whites) on top of the cake and bake until golden brown or for another 20 minutes. Around the inside edge of the pan, run a sharp knife completely and take out the cake. Before serving, cool to room temperature. Enjoy.
To see the original recipe that inspired this one, check out the recipe for Tasty and BeautifulApple Meringue Cake found at Home Cooking Adventure.