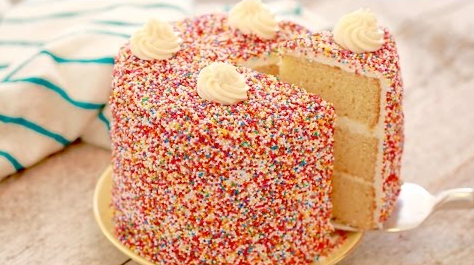 Surprise someone on their birthday with this moist and fluffy vanilla cake. You just need to follow this recipe and once done, you'll have a birthday cake that everyone will actually want to eat. Easily serve 6-8 people, but you better portion the slices carefully because everyone will want one.
I remember having a birthday party as a kid. After all of the birthday song singing, candle blowing, wish making, I finally could eat the cake! It was sweet…and that's it.
With this recipe as a guide, you can make it your own. More importantly, you'll be making it for someone dear to you. Add your own personal touches to it, use more colorful sprinkles, decorate it with gummy bears, or whatever you like. The sky is the limit!
Ingredients for Vanilla Birthday Cake with Buttercream Frosting
Wet Ingredients:
5 large egg whites (room temperature)
1 whole egg (at room temperature)
1 cup (8floz/227ml) whole milk or full-fat buttermilk
2 1/4 teaspoons pure vanilla extract
Dry Ingredients:
3 cups (425g/15oz) cake flour (sifted)
2 cups (453g/16oz) granulated sugar
4 teaspoons baking powder
½ teaspoon salt
¾ cup (170g, 6oz) unsalted butter (cold)
Buttercream Frosting:
1½ cups (12oz/340g) butter (softened)
6 cups (1lb 8oz/680g) icing sugar (powdered sugar), sifted
2 teaspoon vanilla extract
2-3 tablespoons milk or cream
Pinch of salt
Seeds scraped from one vanilla bean pod (optional)
How to Make A Vanilla Birthday Cake with Buttercream Frosting
Here's how to make a Vanilla Birthday Cake with Buttercream Frosting
To make the batter:
Preheat your oven to 350 F. Mix all the wet ingredients in a large bowl and whisk together until combined. Set aside. Next, add all the dry ingredients in a different bowl and mix together until you have a something like a fine breadcrumb consistency. Mix in the wet ingredients into the dry and mix well until the batter forms and there are no more lumps (about 1-2 minutes).
Prepare three 6-inch cake pans, grease with butter and line with parchment paper. Divide the batter evenly into the prepared pans. Put in the oven and bake for about 25-35 minutes. At 25 minutes, check to see how it is doing, and so you don't overcook them. Once done, allow to cool for 20 minutes before removing them.
To make the buttercream frosting:
In a stand mixer, whip the butter for about 7-8 minutes, until light and creamy. On medium speed, slowly add in the icing sugar 1 spoon at a time and before adding in more sugar, let the sugar fully incorporate. Add the cream or milk, vanilla extract, vanilla bean seeds, and salt. Whip for another 3-4 minutes on high speed until fluffy and creamy. Use it straight away or put in the refrigerator for up to 4 weeks. Make sure they have come to room temperature before using.
To assemble the cake:
Cut off the top of the cake layers to give them even surfaces. Using a spatula, spread your buttercream frosting on top. Place the 2nd layer face down on top and put frosting on top of this layer and spread evenly. Repeat with the 3rd layer. Decorate your cake with sprinkles all over. Serve and enjoy.
To see the original recipe that inspired this one, check out the recipe for Vanilla Birthday Cake with Buttercream Frosting found at Bigger Bolder Baking.