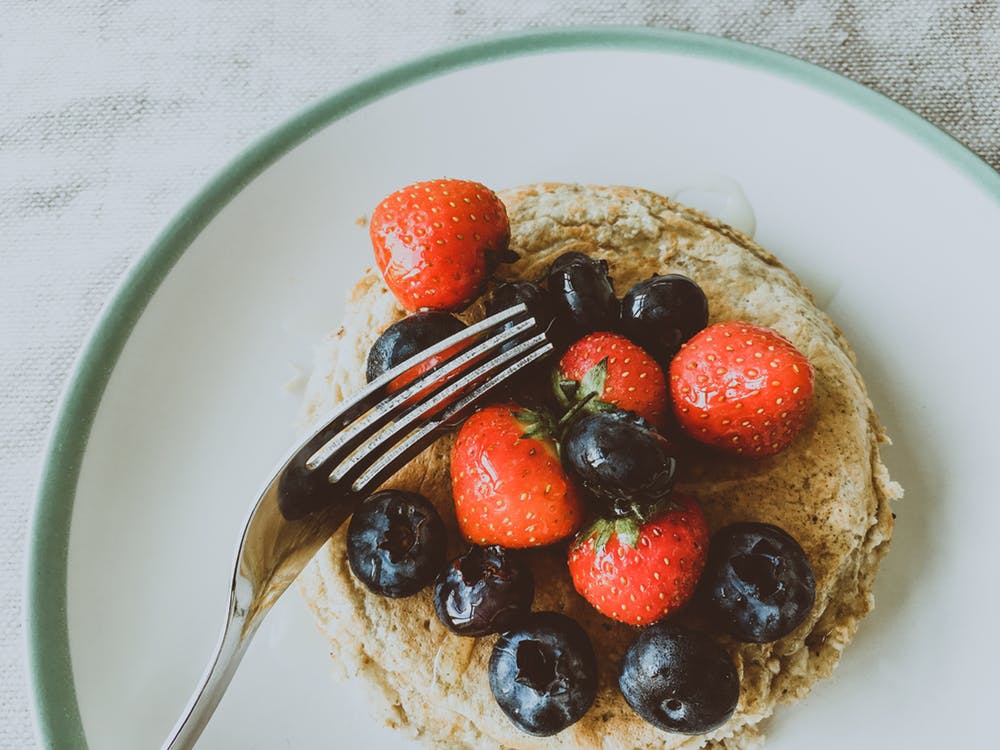 These pancakes are unbelievably fluffy and soft, with a mix of strawberries and blueberries, it is to die for. A healthy and delicious breakfast meal that you can prepare quickly, and oh, did I mention these pancakes are super low in calories? So, stack them all the way up and enjoy a very fulfilling breakfast. This recipe will make 7 servings that you can serve right away, but you better make more, these pancakes won't last very long.
I wanted to make a healthier breakfast for my family but also something that's not too bland, something that they can really enjoy. That's the reason behind this recipe, and that's why I wanted to share this recipe with you today, and hopefully, it can be the start of a healthier eating habit.
Maple syrup is always a great pair for any kind of pancakes; the chocolate syrup is another excellent option, or honey. If you want something a little less sugary, coconut flakes will make the pancakes taste even better; you can also add some yogurt and sour cream. 
Ingredients for Mixed Berry Multi-Grain Pancakes
3 tablespoons coconut oil (melted)
3 tablespoons coconut sugar or brown sugar
1 ¼ cups white whole wheat flour
1 large egg
1 teaspoon vanilla extract
1 tablespoon baking powder
¾ cup milk
¾ cup fresh strawberries (diced)
¾ cup fresh blueberries
½ teaspoon baking soda
½ cup Greek yogurt
1/3 cup quick-cooking oats
¼ cup yellow cornmeal
¼ teaspoon salt
maple syrup for serving
How to Make Mixed Berry Multi-Grain Pancakes
Whisk the egg, oil, yogurt, and vanilla in a large bowl until smooth. Combine the flour, oats, cornmeal, sugar, baking powder, baking soda, and salt in a separate bowl. Add the flour mixture into the liquid until the batter is just combined. Fold in berries.
Over medium-high heat, cook the pancakes on a greased hot skillet, by ¼ cupful's in batches 1 – 2 minutes on each side, and flipping once. Pour maple syrup, serve, and enjoy.
To see other recipes for Mixed Berry Multi-Grain Pancakes, check out: 
http://wholeandheavenlyoven.com/2017/01/24/healthy-mixed-berry-multi-grain-pancakes/
https://www.mrbreakfast.com/superdisplay.asp?recipeid=3183
http://www.mykitchenaddiction.com/2011/06/multigrain-pancake-mix-wfmw/