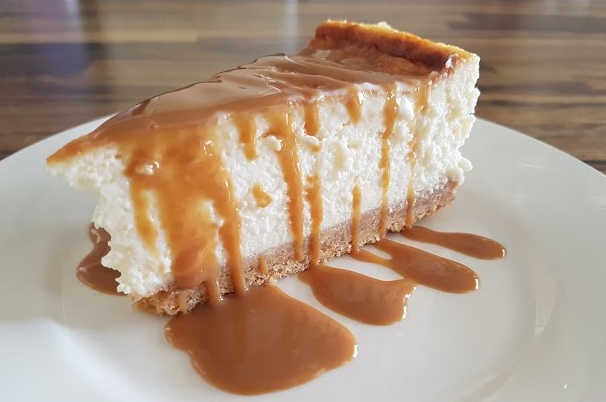 This is my take on a New York-style cheesecake. Rich and creamy, delicate and super delicious, it's no wonder that cheesecakes are everyone's favorite. Now, making cheesecakes can be intimidating, but don't worry, if you follow my recipe, you will learn how to make the perfect New York cheesecake. This recipe will make about 12 slices of heavenly dessert for everyone to enjoy.
Cheesecake is one of my all-time favorite desserts. It's so creamy, rich, and just melts in your mouth. I had the pleasure of tasting one of this famous New York-style cheesecake when I visited the big apple on a work trip. I was amazed because it tasted just like any other cheesecake that you can buy at your local bakery, but it has something different.
Wine is a great pair with cheesecakes, sweet Riesling or a late harvest sauvignon blanc are pretty reliable choices. Or, you can pour some honey on top to give it that extra sweetness. Some chopped fresh fruits also work well.
Ingredients for New York Cheesecake
6.5 ounces biscuits
2oz ground almonds
1/3 cup melted butter
3+1/8 cups cream cheese
1 cup of sugar
1½ cups sour cream
½ cup heavy cream
4 eggs (room temperature)
3½ tablespoons cornstarch
1 tablespoon lemon juice
1 tablespoon lemon zest
1 teaspoon vanilla extract
How to Make New York Cheesecake
First, preheat your oven to 360F and prepare 9-inch (23cm) springform pan.To make the crust;in a food processor, process the biscuits and ground almonds until fine, add melted butter and process again until well combined. Firmly over the base, press the biscuit mixture. Cover and put in the fridge for about 30 minutes to set.
Beat the cream cheese in a large mixing bowl on medium speed and gradually add sugar until fluffy. Add the heavy cream and sour cream, beat on low speed. Add in the cornstarch and add the eggs, 1 at the time, beating well after each addition until combined. Add the vanilla, lemon zest and juice and beat just until combined (DO NOT OVERMIX!)
With melted butter, brush the sides of the springform tin and pour the filling mixture. Release air bubbles by tapping a few times. Place the foil-covered tin into a hot water bath and bake at 360F for 30 minutes. Once done, reduce your oven temperature to 300F and bake for another 30 minutes. Leave the door closed for 1 hour after you turn off the oven. Allow the cake to cool in room temperature for about 1-2 hours and before serving, refrigerate for at least 6 hours.
Release the cake from springform gently and to get clean slices, slice the cake with a sharp knife deep in warm water.
To see the original recipe that inspired this one, check out the recipe for New York Cheesecake found at The Cooking Foodie.