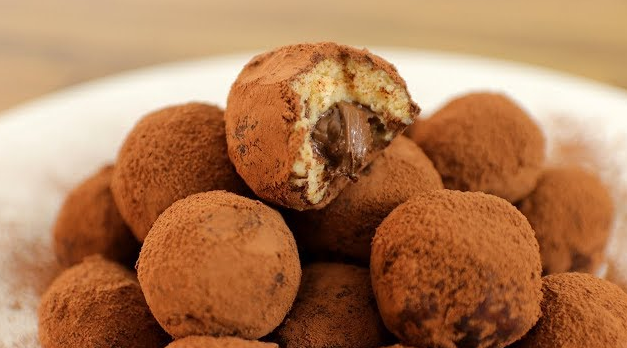 So rich and creamy, these tiramisu truffles are flavored with cocoa, mascarpone cheese, and coffee. It won't take much of your time, you absolutely have to try this recipe. For classic tiramisu lovers, I guarantee you'll love these truffles. This recipe will make 6 tiramisu truffles for everyone to enjoy.
My first encounter with a chocolate truffle was in an Italian restaurant when my husband and I celebrate our 10th anniversary together. It was amazing, so creamy and melts in your mouth. I went into research mode the day after and came up with this recipe that I want to share with you today.
This heavenly dessert is already amazing on its own, but you can always add something to it to give it a little more of your own personal touch. Chopped up some fresh fruits, candied them, and sprinkle all over, brush coffee liqueur for another layer of flavor, just be a little creative and you'll surprise yourself.
Ingredients for Tiramisu Truffles
1 cup + 1 tablespoon mascarpone
5 oz ladyfingers (Savoiardi cookies)
1 teaspoon coffee + 30 ml boiling water
1/3 cup + 1 teaspoon powdered sugar
½ teaspoon pure vanilla extract
¼ cup of cocoa powder
4 tablespoons hazelnut-chocolate spread or Nutella
How to Make Tiramisu Truffles
First, mix the coffee with hot water and set aside until completely cool. Next, crush the ladyfingers. Mix mascarpone with sugar in a large bowl until smooth then add the chilled coffee and vanilla extract. Mix everything until smooth. Add the crushed cookies and mix well until combined. Put in the freezer for 30 minutes.
Take a small amount of the mixture with your hand and roll into balls, then roll in cocoa powder. Or the second option; take a small amount of the mixture in your hands and flatten it. Put the Nutella in the middle, close and shape into a ball then roll in cocoa powder. Before serving, refrigerate for at least 2 hours.
To see the original recipe that inspired this one, check out the recipe for Tiramisu Trufflesfound at The Cooking Foodie.