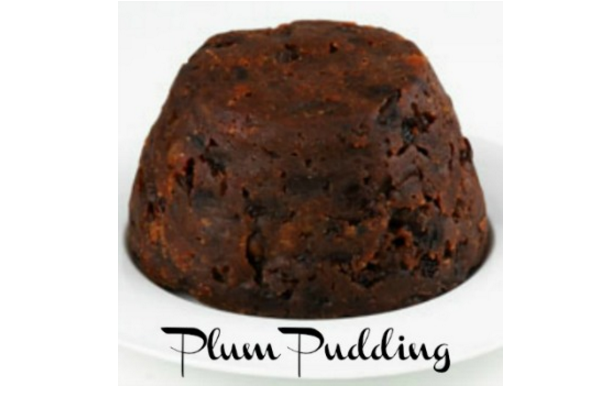 I love a good steamed plum pudding so seeing that today is National Plum Pudding Day I had to find you a recipe
Plum pudding is a steamed or boiled pudding frequently served at holiday times.  Plum pudding has never contained plums.  The name Christmas pudding is first recorded in 1858 in a novel by Anthony Trollope.
This great recipe is brought to you by whatscookingamerica.net , thanks for sharing this recipe with us also there is information about this dessert  on the website too
Here below is a list of the ingredients you will need to make this plum pudding
Ingredients:
1 cup granulated Sugar
1 cup butter, room temperature
1 cup milk*
2 eggs, beaten
2/3 cup molasses
1/4 teaspoon salt
1 teaspoon baking soda
3 teaspoons baking powder
3 1/2 cups all-purpose flour plus 2 tablespoons
1 1/2 cups raisins, finely chopped
1 cup dates, chopped
1/2 cup nuts, chopped
3 tablespoons candied orange or lemon citron, finely chopped
1 1/2 cups chopped apples
1 teaspoon ground cinnamon
1/4 teaspoon ground cloves
1/4 teaspoon ground nutmeg
Boiling Water
Nutmeg Sauce (see recipe below)
* 1/2 cup fruit juice and 1/2 cup brandy may be substituted for the milk if desired.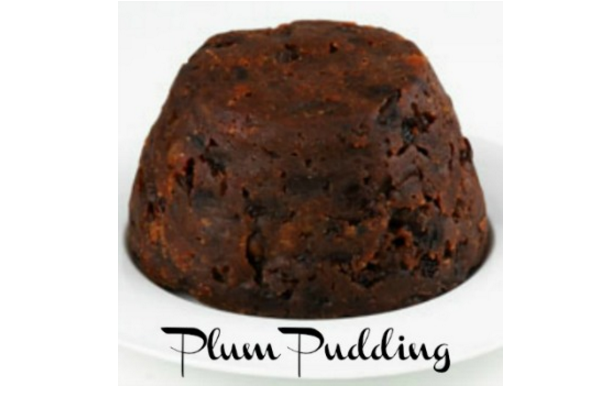 To Get The Recipe :https://whatscookingamerica.net/Cake/plumpuddingTips.htm
National Plum Pudding Day
Plum pudding is a mouthwatering treat that, surprisingly enough, contains no plums! In the 17th century when it was first created, plums referred to raisins or other dried fruits. Plum pudding (aka Christmas pudding) is a steamed or boiled pudding usually served during the holiday season.
Plum pudding is composed of nutmeg, raisins, nuts, apples, cinnamon, dates, and many other ingredients. In England, it is tradition to have every person in a household simultaneously hold onto the wooden spoon together to help stir the batter. As they stir they also have to make a wish!
Did you know that during the Puritan reign in England, plum pudding was outlawed because it was considered "sinfully rich?" To celebrate this sinful dessert on National Plum Pudding Day, dig out Grandma's old recipe for plum pudding and make some to share with friends and family!
Article Source :https://www.punchbowl.com/holidays/national-plum-pudding-day