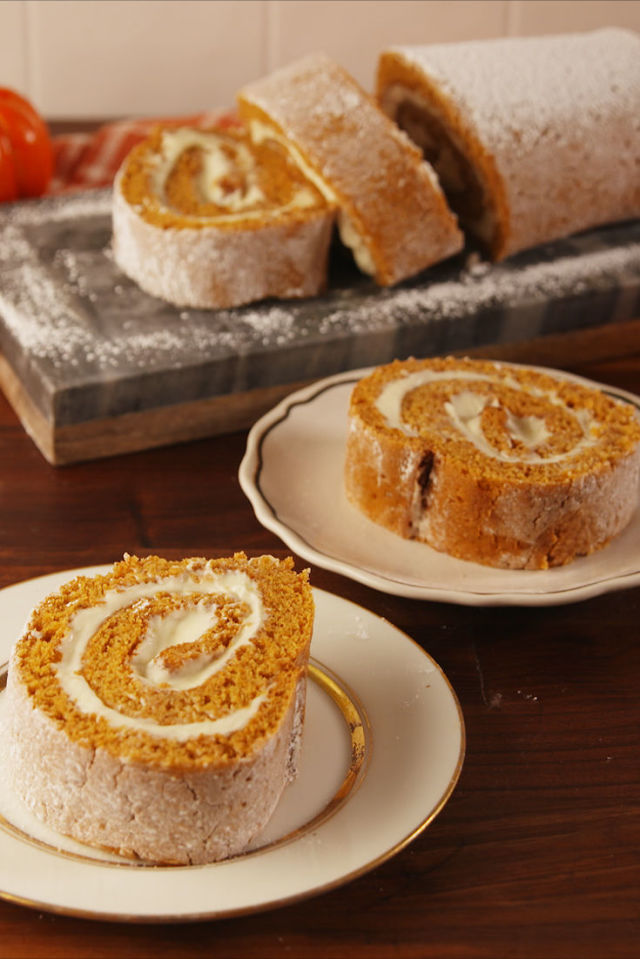 Not only does this Pumpkin Cheesecake Roll looks great, but it tastes incredible; it will amaze your family and guests for holiday dinner. The secret to rolling this cake perfectly is to roll it while it is warm. It is more pliable then, compared to when it is rolled when cooled. Also, the consistency of the frosting should be stiff to hold the cake together. Finally, serve it on a beautiful chopping board or a lovely rectangular platter.
Ingredients for Pumpkin Cheesecake Roll 
For the Cake:
3/4 cup all-purpose flour
1 cup sugar
1 teaspoon baking soda
1/2 teaspoon pumpkin spice
1/2 teaspoon salt
3 eggs
2/3 cup pumpkin puree
powdered sugar for cake dusting
For the Cake Filling:
8 ounces cream cheese, softened
1 tablespoon butter, melted
1 teaspoon vanilla
1 1/4 cup powdered sugar
1/4 teaspoon salt
How to Make Pumpkin Cheesecake Roll 
Preheat the oven to 350°F.
Combine all ingredients for the cake except powdered sugar, and mix until combined. Line a 15×10 jelly roll pan with parchment paper and coat it with cooking spray. Pour over the cake batter and spread it on the pan using a spatula. Bake for 15 minutes or until a toothpick inserted comes out clean.
Remove the cake from the oven and while it is warm, roll it. Dust a kitchen towel with powdered sugar, put the cake, and peel the parchment paper. From the short end, gently roll the cake, placing the seam side down, and let it cool completely.
In the meantime, make the filling—whip cream cheese, butter, vanilla, powdered sugar, salt until nice and thick.
When the cake is cooled, unroll it and spread the filling leaving 1 inch on the edges without frosting. Roll it again and dust with powdered sugar before slicing, and then serve.

To see the original recipe that inspired this one, check out the recipe for Pumpkin Cheesecake Roll found at Delish