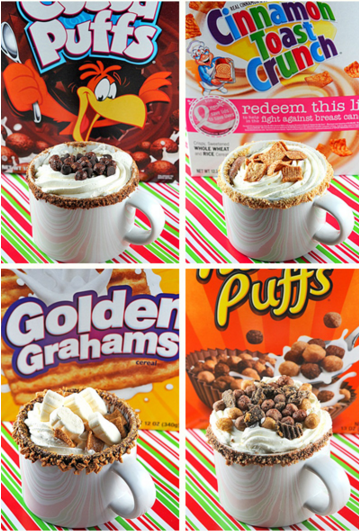 We all seem to love hot chocolate so when I came across this recipe for 4 amazing hot chocolate recipes that have that little extra  touch  from your favourite cereal.. I love how they were put together with the cream and extra topping bits too .. why not check out these amazing  hot chocolate recipes that  are fantastic
This great recipes for these hot chocolates is brought to you by tablespooon.com website , thanks for sharing them with us
Here below is a list of the ingredients you will need to make this recipe along with an excerpt about them too from the website
While almost everyone loves cereal, most people probably wouldn't think to pair it with hot chocolate.
But it makes perfect sense and helps make a yummy flavor explosion in your mouth. At your next party, why not create a Cereal Hot Chocolate Bar?

The combos are endless if you really start to think about it. I went with Reese's Puffs, Cocoa Puffs, Golden Grahams, and Cinnamon Toast Crunch to make my cocoa cereal bar. Don't forget to have whipped cream and marshmallows on hand as well!
Here are the varieties that I used…
Cookies and Cream: White Chocolate plus Cocoa Puffs… I added some crushed up cookies as well.
Cinnamon Roll: White Chocolate plus Cinnamon Toast Crunch
S'mores: Chocolate plus Golden Grahams… just add some marshmallows on top.
Peanut Butter Cup: Chocolate plus Reese's Puffs… add peanut butter cups on top of whipped cream
Cereal…it's not just for breakfast anymore!
Line your cocoa with favorite cereals to create a new cocoa flavor sensation.
INGREDIENTS
1 cup chocolate chips
1 cup white chocolate chips
1 cup Cocoa Puffs™ Cereal
1 cup Reese's Puffs® cereal
1 cup Cinnamon Toast Crunch™ cereal
1 cup Golden Grahams™ cereal
2 cups whipped cream
1 handful marshmallows
1 handful extra cereal for garnish
1 large batch hot chocolate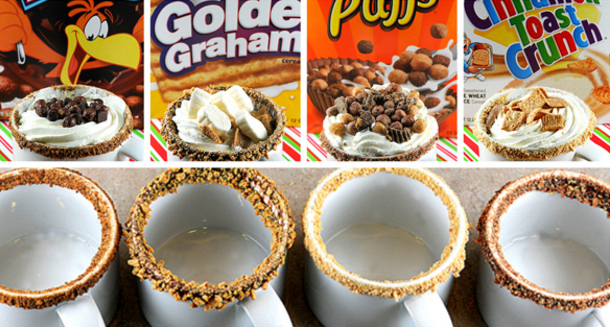 Original recipe source:tablespoon.com