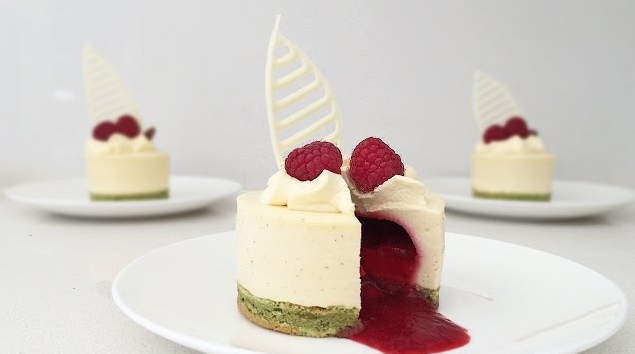 This recipe represents light and refreshing dessert with a beautiful exotic flavor from the raspberry sauce and creamy yogurt mousse. If not a huge fan of raspberries you can adjust the sauce with any other fruit you would like.
First of all, you need to bake some dangerously delicious sponge cake loaded with pistachios, which you will use as a first layer of this dessert. Then, you need to make an exotic raspberry sauce and finally creamy and delicious yogurt mousse.
Perfect for spring and summer, this dessert is complete refreshment after a long day at work or just a relaxing weekend in the backyard. The best part of it – it can be made in advance – at least the raspberry sauce and pistachio sponge cake.
Also, you can adjust the sugar in the recipe or even substitute it with honey or maple syrup. Anyway, no matter how you will make it, this recipe is the perfect treat for the whole family.
Ingredients for Raspberry inside Dessert 
For pistachio sponge cake:
½ cup granulated sugar
2/3 cup all purpose flour
1 teaspoon baking powder
¼ cup pistachios
50 ml. water
30 ml. vegetable oil
2 drops green food coloring
4 egg yolks
5 egg whites
1/8 teaspoon cream of tartar
For the Raspberry Sauce:
1 ¾ cup frozen  raspberries
½ cup powdered (icing) sugar
freshly squeezed juice of one orange
For Chocolate Crunch Layer:
¼ cup crushed wafer cones
100 gr. white chocolate
For the yoghurt mousse
1 cup + 2 tablespoons vanilla flavored yogurt
2 cups crème
1 tablespoon + 1 teaspoon gelatin powder
chocolate shapes for decorating
pistachios for garnishing
How to make Raspberry inside Dessert 
To prepare the raspberry sauce, place frozen raspberries an icing sugar in blender and blitz until fully blended and smooth. Strain the sauce over a fine strainer and bring it to boil in a saucepan over medium heat. Add in the juice of one orange. Stir occasionally and pour the sauce into one half of a sphere ice cube tray and place it to freeze overnight in the freezer.
To make the sponge cake, add the cream of tartar in the egg whites and set aside.
In blender blitz together egg yolks, oil, pistachios, sugar, and the water until smooth and combined. Scrape the mixture into a mixing bowl and fold in the green food coloring. Add in flour and the baking powder into the mixing bowl and stir well.
Whip up the egg whites and cream of tartar until stiff peaks form and fold in this mixture in the green sponge cake mixture, lightening it up. Pour this batter into the lined tray with baking paper and bake it in the preheated oven at 370 degrees F or 180 degrees C for about 10-15 minutes or until a toothpick inserted comes out clean. Once it has cooled find a circle cutter that fits its base and cut circles and placed them into the tin with the top side down.
Melt white chocolate and mix well with crushed coned wafers. Spread evenly over two parchment papers and roll out with a rolling pin until desired thickness. Let it set completely. Cut round circles with small cookies cutter from the crunchy chocolate layer.
To prepare the yogurt mousse, in a small bowl with gelatin add in 4 tablespoons of the cream and mix it well immediately. Leave it for 1 minute to soften. When softened you can melt it in microwave on high.
In remaining cream, add in sugar, yogurt and whisk with a hand mixer until it slightly thickens, let's say it forms like a thick sauce consistency. While the mixer is still running add in the gelatin and mix it really well. Add a ¼ of a cup of the prepared mousse into the base of each dessert, place in circles of crunchy chocolate layer and frozen raspberry sauce. Fill each dessert with more mousse and place them in the freezer for about an hour to set. Remove from the tins and decorate with whipped cream and decorate with chocolate shapes and fresh raspberries each of the desserts.
To see the original recipe that inspired this one, check out the recipe for Raspberry Inside Dessert found at How To Cook That.