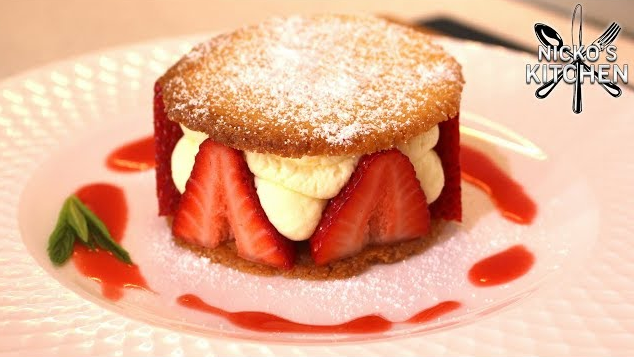 Have you ever wondered what is the best way to surprise your loved one?
I have an idea for you. Skip the crowded restaurants and stay in your home for a date night by making this Strawberry Romantic dessert recipe. After all, the best way to show someone you really love them is by baking him or her a dessert, especially a strawberry dessert!
This Romantic dessert isn't only for Valentine's day, or for an anniversary, it is also perfect to surprise your loved one with no reason, just because you liked it and wanted to show some love and appreciation.
A lot of you love chocolate desserts to show some love to somebody, but not only chocolate dessert is here to show someone you care about. This refreshing strawberry dessert consists of refreshing fresh strawberries, delicious syllabub crème and buttery biscuits as the base.
The only thing I am sure of is when that someone will bite into this, will fall in love with you, even more.
Ingredients for Strawberry Romantic Dessert 
For the biscuits base:
¾ cup (100g.) all purpose flour
2 ½ oz. (75g.) unsalted butter
½ cup (100g.) caster sugar
grated zest of 1 lemon
2 egg yolks
For the Syllabub crème:
¼ cup (50g.) caster sugar
grated zest and juice of 1 orange
grated zest and juice of 1 lemon
1 ¼ cup (300ml.) double cream
For the Strawberry Coulis:
150g.offresh strawberries
¼ cup (50g.)  icing / confectioner sugar
1 teaspoon freshly squeezed lemon juice
To serve
200g fresh strawberries, topped and hulled
icing sugar/confectionary sugar for dusting
mint leaves for decoration
How to make Strawberry Romantic Dessert 
Preheat the oven to 400 F or 200 C degrees.
To make the biscuit base, mix the flour, butter, sugar, lemon zest, and egg yolks together in food processor until the soft bowl of dough is formed. Rest the dough in the refrigerator for about 30 minutes or so, and roll it out thinly between two pieces of parchment paper to prevent sticking. Cut eight biscuits with 3 ½ inch pastry cutter and bake them in the oven for about 6-8 minutes. Leave them on a cooling rack to cool completely.
To make the coulis in a blender place in strawberries, icing sugar, and freshly squeezed lemon juice. Blend until smooth and combined. Pass it through a fine mesh sieve to get smooth texture as possible.
To make the syllabub crème, place all of the ingredients in a mixing bowl and whisk until soft peaks form and fluffy.
To set the Strawberry Romantic dessert, place one cookie on a plate over a drop of the syllabub crème, to prevent from moving while assembling.
Pipe out some of the syllabub on the biscuit, cut strawberries in half and place them on the sides of the cookie with the cut side facing out. Decorate with syllabub again, filling all the holes from the strawberries and finish with another biscuit on top of the dessert. Dust it with powdered sugar and decorate with strawberries coulis. Garnish with mint.
To see the original recipe that inspired this one, check out the recipe for Romantic Dessert found at Nicko's Kitchen.