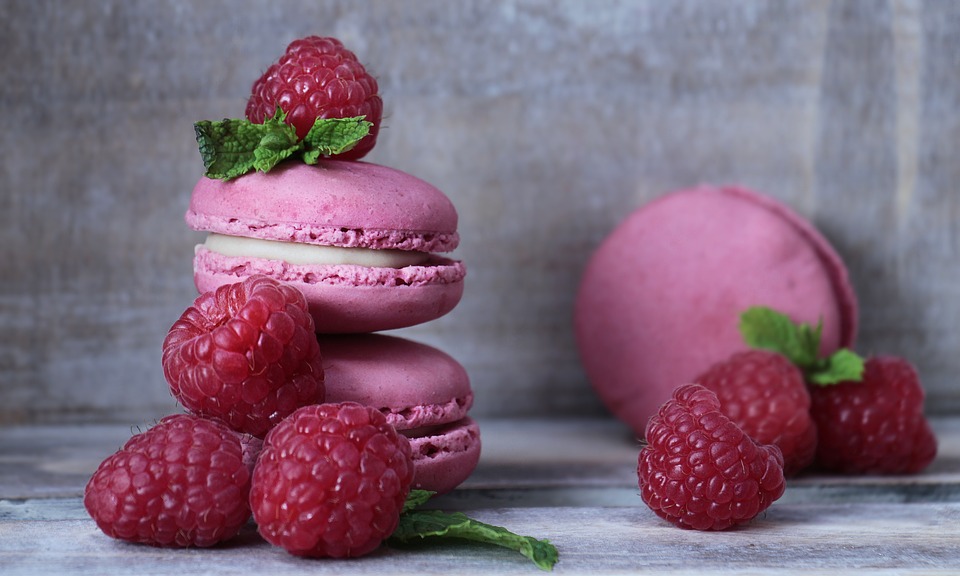 Here is one royally luxurious dessert, that will exceed your expectations and raise your standards when it comes to desserts. Meet the deliciousness that comes straight from the heaven-Raspberry macarons. When you think of something that is unusually luxurious, rich, and luscious, the first thing that will pop in your mind is the French macaroons. The fine ingredients are embraced together, in order to create the real guilty pleasure that is meant to please all your senses.
Macarons are one of those recipes that you should read well before starting. And here you will find some detailed instructions to make sure that yours will look perfect. They come in a variety of different flavors, and raspberries are definitely an awesome pick. With being so little, it is incredible how they have a very strong taste. This is the thing that makes them the perfect choice, and you will know that your macarons will have the perfect strong fruity flavor. With having a rich, creamy filling in between, this dessert is definitely something that you should put on your to-do list.
Ingredients for Raspberry Macarons with White Chocolate Buttercream Filling 
For the macarons :
1 cup almond flour
 ¾ cup powdered sugar 
 70 grams egg whites 
 ¼ teaspoon cream of tartar 
 ¼ cup granulated sugar 
 1 tablespoon concentrated raspberry syrup or puree
For the white chocolate buttercream filling :
1/3 cup butter
 ¼ cup powdered sugar 
 1/3 cup good quality of white chocolate 
 1 teaspoon lemon juice 
 pinch of salt 
How to Make Raspberry Macarons with White Chocolate Buttercream 
Preheat your oven to 300 F degrees or 150 C degrees. Line a cookie sheet with parchment paper and set aside. In a mixing bowl beat in the egg whites alongside with the granulated sugar and cream of tartar. Beat until stiff peaks form. It will take you about 10 minutes.
In another bowl, mix almond flour and icing sugar altogether.
In the egg white mixture, add in the concentrated raspberry syrup and almond flour with icing sugar. Stir slowly and gently with the help of a spatula. Make sure you do not over mix the batter and under mix it as well. It needs to drop like a lava consistency. Transfer the macaron batter in a pastry bag with a round tip and pipe out 1-inch rounds about an inch apart from another. Tap the baking sheet on the counter a few times so all of the air bubbles will disappear.
Let them rest and dry for about 30-40 minutes, and when ready, pop them in the oven. Bake them for about 15-20 minutes. Let them cool completely.
To make the filling in a mixing bowl with a whisk attachment, beat the butter and powdered sugar for about 2 minutes. Melt the white chocolate and cooled add them in the butter mixture. Add lemon juice and mix well. Transfer the buttercream filling into a piping bag and fill every second shell of the macarons. Garnish them with fresh raspberries and spring of mint.
To see other recipes for Raspberry Macarons with White Chocolate Buttercream, check out: 
https://www.sweetandsavorybyshinee.com/white-chocolate-raspberry-macarons/
http://www.birchtreebaking.com/white-chocolate-raspberry-macarons/
http://www.thepinkwhisk.co.uk/2011/01/raspberry-white-chocolate-macaroons.html