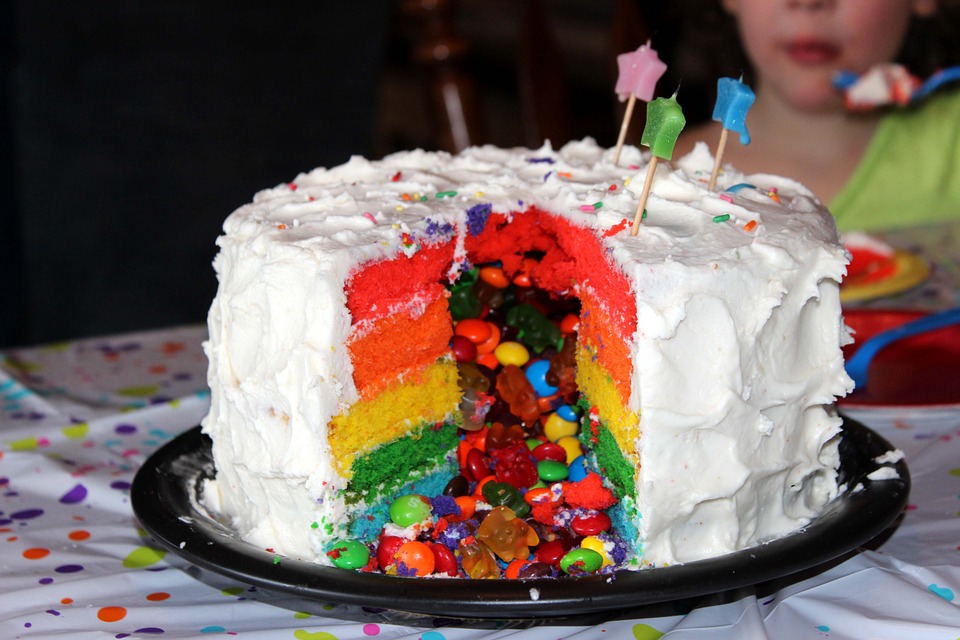 Looking for a stunning cake recipe that will leave your guests speechless? You can stop searching because this fantastic recipe is all you need. It is extremely delicious and looks so beautiful, which makes it the ultimate party cake choice for all times. Both kids and adults will be amazed by the colorfulness and the fact that the inside part that hides a surprise.
Just one look at this cake will make you crave for a piece. When you cut through the layers in the colors of the rainbow, you will stumble upon a real surprise. The center is filled with candies that are released as you are trying to cut the perfect piece that will be enough to satisfy the cravings provoked by this beauty. This makes it an advanced version of a Pinata!
Don't worry that you won't be able to make a cake this glorious, as it is not that complicated. And here you will find the detailed instructions that are easy to follow. After checking the recipe, you will be challenged to make one for an upcoming special occasion. So, what are you waiting for? Read on and find out how to make this rainbow surprise party cake!
Ingredients for Rainbow Surprise Party Cake 
For the pastry : 
 4 cups flour 
 2 cups granulated sugar 
 1 teaspoon salt 
 2 teaspoon baking soda 
 2 cups of milk 
 ½ cup vinegar
 4 eggs, room temperature 
 2 teaspoons of vanilla extract 
 2 sticks of butter 
 2 teaspoon red food coloring, liquid 
 2 teaspoons blue food coloring, liquid 
 2 teaspoons yellow food coloring, liquid 
 2 teaspoons green food coloring, liquid 
2 teaspoons orange food coloring, liquid
1 ½ cup of heavy whipping cream 
1 teaspoon vanilla extract 
5 tablespoons powdered sugar
mixed cookies and sweets like m&m's, gummy bears, etc.
How to Make Rainbow Surprise Party Cake
Preheat your oven to 360 F degrees or 180 C degrees. Butter and line with parchment paper five cake tins. Set them aside. In a large bowl, combine the milk and vinegar and wait several minutes to curdle a little bit.
In another bowl, combine sugar, flour, baking soda, and salt. Add the curdled milk into the dry ingredients and stir in the melted butter. Beat until the batter is smooth and well incorporated. Add in the vanilla extract and eggs and stir until smooth. Divide the batter into five bowls.
And in each bowl add in different food coloring. Pour the different colored batters in the pans and bake them for about 30 minutes or until a toothpick inserted in the middle is cleaned.
To assemble the cake, whip up the heavy whipping cream alongside with vanilla and powdered sugar until stiff peaks form and spread it evenly on each cake layer. Top each layer of the cake one to another and in the middle make a small hole to put the m8m's and gummy bears. Spread the whole cake with the remaining whipped cream and slice it so you can see how your candies are running over of the cake. Enjoy.
To see other recipes for Rainbow Surprise Party Cake, check out: 
https://www.thekitchn.com/how-to-make-the-ultimate-rainbow-surprise-cake-242554
https://www.bestrecipes.com.au/recipes/rainbow-surprise-party-cake-recipe/58kuombo
https://www.bettycrocker.com/recipes/rainbow-surprise-inside-cake/ac4233e4-f5de-4750-ad6e-50fdf624d50b