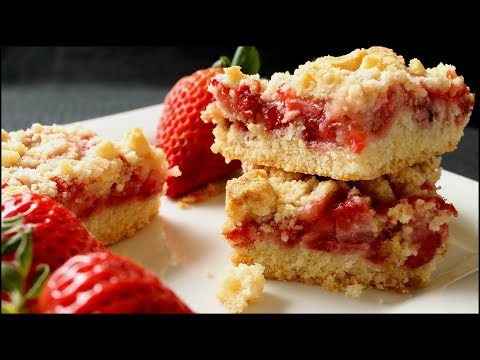 It's finally the season of strawberries. Our family usually goes to a local farm and does strawberry picking on the weekend. My grandchildren love this activity because they enjoy eating their fresh-picked strawberries while on the farm and can enjoy more of them when we go home, as I used these fresh fruits on my different baking recipes. One of them is strawberry crumb bars, which I will be making today.
Eating what is in the season has a lot of benefits. We can enjoy the freshest and nutritious strawberries at a cheaper price. And what makes me happier is the simple family gathering we do this season.   
You can eat these strawberry crumb bars all by themselves or serve them with a scoop of vanilla ice cream. 
Ingredients for Strawberry Crumb Bars
1 ½ cups all-purpose flour
¾ cup granulated sugar, divided
½ teaspoon baking powder
⅛ teaspoon salt
1 large egg
½ cup cold unsalted butter, cubed
1 pound fresh strawberries, diced or frozen strawberries without syrup 
2 tablespoons cornstarch
How to Make Strawberry Crumb Bars
Mix dry ingredients flour, ½ cup sugar, baking powder, and salt in a food processor. Pulse them until they are well-combined. Add the cold and cubed butter and egg and then pulse them again until you form fine crumbs. In a separate bowl, combine strawberries, remaining sugar, and cornstarch. Mix them together until all strawberries are coated.
Grease an 8″x8″ glass baking dish with butter. For the crust, pour ⅔ of the crumbs and then press firmly on the bottom. Add the strawberry mixture and then top with the remaining crumbs. Bake in a preheated oven at 180 degrees Celsius for 40-45 minutes until you see a golden brown surface. Let it cool before cutting into squares.    
To see the original recipe that inspired this one, check out the recipe for Strawberry Crumb Bars found at Crouton Crackerjacks