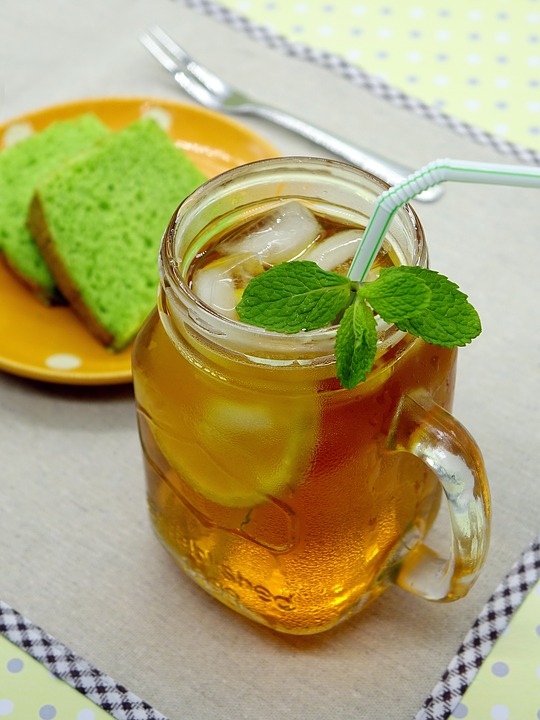 It won't be summer if you don't have this delicious lemon and sweet ginger tea daily to refresh you up on warm days. Once you try this deliciously refreshing summer iced tea recipe, it will be your favorite and will make it over and over again. 
What I love about iced teas is that you are going to make them in less than 5 minutes, and you will end up having so refreshing drink for yourself and for people you are gathering with. The nice part of the recipe is using simple syrup to sweeten it up, but I have decided to use half of the usual dose of simple syrup and honey for a little bit of springy and summery kick in the tea. 
Don't forget that the nicest kick in the recipe adds ginger. Just before your guest arrives in serving glasses, fill them with ice cubes and decorative and presentable straws and pour that delicious iced tea once they arrive to say welcome and to refresh them up on a summery day. 
Ingredients for Lemon Ginger Sweet Tea 
5 bags black tea 
 4 cups of water, boiling hot 
 2 lemon sliced and 1 lemon squeezed 
 1 tablespoon freshly grated ginger 
 1 cup simple syrup 
 ice cubes 
 fresh mint and lemon wedges to serve 
How to Make Lemon Ginger Sweet Tea 
In a large pitcher, add tea bags and hot water to make the black tea infused. 
In another bowl, add in the lemon slices, grated ginger, freshly squeezed lemon juice, and ice cubes. Add in chilled black tea and stir all together. Add in the simple syrup and let it chill 2-3 hours before serving. 
Serve in decorative glasses with a fancy straw and few ice cubes. Decorate the glass with lemon wedges and fresh mint. 
To see other recipes, check out: 
https://www.tastesoflizzyt.com/lemon-ginger-sweet-tea-recipe/
https://www.mysequinedlife.com/lemon-ginger-iced-green-tea-with-honey/
https://www.bowlofdelicious.com/iced-ginger-honey-lemon-tea/