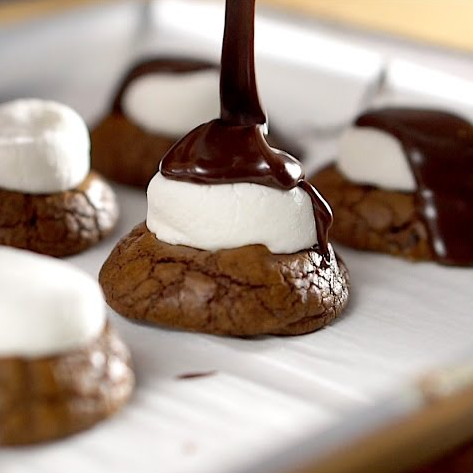 These cookies will warm your soul and soothe your troubles away. I am not exaggerating when I say that. It's the perfect treat for when you just sit by the fireplace on a cool winter day and you have these cookies, a warm beverage, and your loved ones by your side. This recipe will make about 12 heartwarming cookies for you and loved ones to enjoy.
Cookies are my weakness, any kind of cookies. Maybe it's because my mother makes the most delicious cookies I've ever tasted. There's something in them that I just couldn't find when I buy cookies in my local bakery. I want to share that with you today, only you can make something special that your family will remember forever.
A traditional warm glass of milk is an excellent choice to accompany these cookies or if you're a coffee-lover, a nice hot cup of vanilla latte is also a good choice. You also can add some topping to go along with the cookies, a sprinkle of dark chocolate is the first thing that comes to my mind.
Ingredients for Hot Cocoa Cookies
1/2 cup (1 stick) unsalted butter
12 oz semi-sweet chocolate
1 1/2 cups all-purpose flour
1/4 cup unsweetened cocoa powder
1 1/2 teaspoon baking powder
1/4 teaspoon table salt
1 1/4 cups packed brown sugar
3 eggs
1 1/2 teaspoon vanilla extract
18 large marshmallows (cut in half)
assorted sprinkles for the cookie tops
ICING:
2 cups powdered sugar
4 tablespoons or 1/2 stick unsalted butter (melted)
1/4 cup unsweetened cocoa powder
1/4 cup hot water
1/2 teaspoon vanilla extract
How to Make Hot Cocoa Cookies
Combine the butter and chocolate in a medium microwave-safe bowl and melt in the microwave on 50% power then set aside. In a bowl, whisk flour, cocoa powder, baking powder, and salt, then set aside. Beat the eggs and brown sugar together in a large mixing bowl with a hand mixer or stand mixer until well-combined. Add the vanilla in the melted chocolate-butter mixture and mix until well incorporated. Stir in the dry ingredients until combined then refrigerate the dough for 1 hour until firm (you want to be able to roll the dough into balls, refrigerate it a little longer if it is still very sticky).
Preheat your oven to 325F. Prepare 2 half-sheet pans and line with parchment paper or Silpat liners. Once chilled, roll tablespoonfuls of the dough into balls and on the prepared baking sheets, place them about 2 inches apart. Bake until the tops are crinkled and the edges are set(12 minutes).Remove from the oven and into the top of each cookie, press 1 marshmallow half. Put back in the oven and bake for another 2-3 minutes.Cool the cookies to room temperature.
With hot water, whisk together the powdered sugar, melted butter, cocoa powder, and vanilla until smooth.Over the top of the marshmallow on each cookie, spoon a small amount of the icing, then if prefer, shake colored sprinkles on top of the icing before it sets.Before removing the cookies from the pan, let the cookies sit at least 30 minutes until the icing has hardened.
To see the original recipe that inspired this one, check out the recipe for Hot Cocoa Cookies found at TipHero.