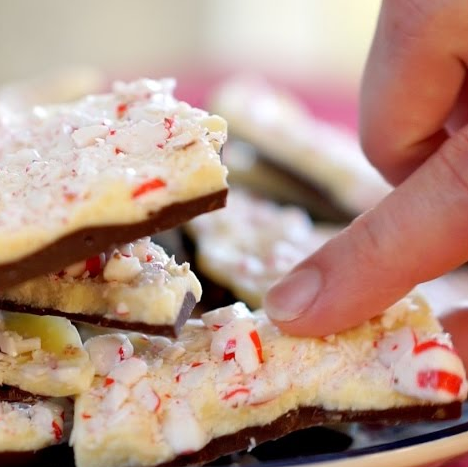 Make this year's Christmas celebration sweeter with this cool pepperminty and super easy recipe. It will only take you less than 1 hour to make, no baking involves or super complicated instructions/ingredients and you probably already have what you need in your kitchen. Serve 4-6 people with this Christmas sweet treat.
I got the idea for this recipe when I visit my sister and she makes this sweet, chocolaty dessert. I asked her for the recipe and it was so simple to make then I thought, why not add some crushed peppermint candy because everyone in my family loves peppermint.
A glass of hot milk will go amazing with this dessert, it will melt the chocolate in your mouth and really enhances the taste. Or you can even replace the peppermint candy with dried fruits. Be creative and add something that your family likes and see the smiles on their faces.
Ingredients for Christmas Peppermint Bark
8 oz peppermint candies or candy canes
12 oz dark chocolate chips
1 tablespoon vegetable oil
12 oz good quality white chocolate
½ teaspoon peppermint extract
How to Make Christmas Peppermint Bark
In a zip-lock bag, smash the peppermint candies. In a large microwave-safe bowl, mix the dark chocolate chips with the vegetable oil. Microwave until melted at 50% power, about 1 ½- 2 minutes, stirring every 30 seconds. On a small parchment-lined sheet pan, spread the melted dark chocolate in an even layer. Refrigerate for 30 minutes to set the chocolate.
When the dark chocolate is firm to the touch, melt the white chocolate at 50% in a microwave-safe bowl, stirring every 30 seconds.In an even layer on top of the dark chocolate layer, spread the melted white chocolate then immediately sprinkle on the smashed peppermints or candy canes. Refrigerate again until the white chocolate is set (30 minutes). Into irregular pieces, break the bark up. This can be stored at room temperature for several weeks.
To see the original recipe that inspired this one, check out the recipe for Christmas Peppermint Bark found at TipHero.