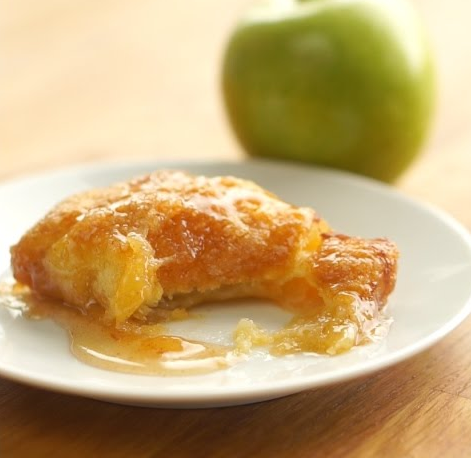 A fantastic Fall treat and so easy to make. The warm and soft apple flavor will make anyone go for seconds. The perfect dessert for any family picnic or lunch. This recipe will make about six servings, but please make more, you don't want to run out when you're in a picnic.
Apple has always been my favorite fruit, and anything that incorporates apple into a recipe always excites me. So, when my daughter said that her friend shares a delicious apple cake, I just had to make a recipe for it.
This is the perfect dessert to go a little bit wild with the toppings, you basically can add anything to it, but the perfect pair for this is a scoop of vanilla ice cream, or if you like, melted chocolate drizzled on top. Anything that you can think of, just try it.
Ingredients for Apple Dumplings
2 cans (8 oz) refrigerated crescent roll dough
2 large green apples (cored and peeled)
4 ounces salted butter
1 ½ cups granulated sugar
1 teaspoon vanilla extract
1 teaspoon ground cinnamon
6 ounces lemon-lime soda
How to Make Apple Dumplings
First, preheat your oven to 350 F.Spray a 9×13 pan with non-stick spray. Slice the apples into eight wedges. Open the crescent rolls dough and unroll them, then separate the 8 triangles from each other. On the wide end of the triangle, place one apple slice and then roll it up like a crescent roll (see the package illustration on the back). To completely enclose it, tuck the ends around the apple slice. Put in the baking pan and repeat with the rest of the triangles.
Microwave the butter in a large microwave-safe measuring cup until melted (about 1 minute).Stir in the sugar, vanilla, and cinnamon, then evenly spread over the dumplings in the pan. Around the edges of the pan, pour the Mountain Dew. Bake at 350F until the crescent rolls are golden brown on top (35-40 minutes).
To see the original recipe that inspired this one, check out the recipe for Apple Dumplings found at TipHero.