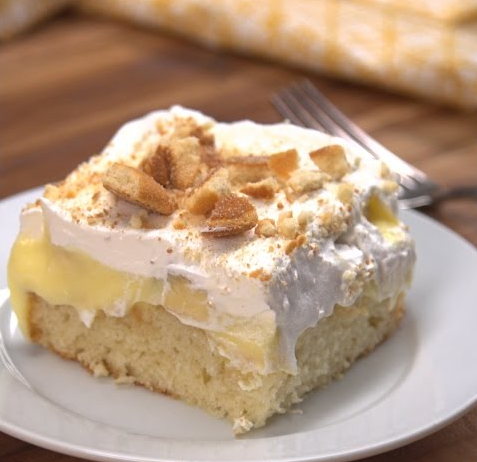 This cake has holes poked all over it and a delicious filling poured over the top making it rich, flavor-injected, and moister than any other cake you've tasted. And they're so simple to make, and yet you still get all of the lusciousness of a cake with filling in the middle! Makes 12 servings of heavenly dessert.
The last time I ate banana pudding was in grade school. I was always excited when I'm about to open my lunch box and banana pudding was one of my favorites. I want to bring back those memories with this recipe, simple pleasures in life that you can remember for the rest of your life.
When I made this recipe for my kids, they loved it. I use this recipe for my daughter and make a different topping for my son. Add something that your kids or husband like and be the star in your family.
Ingredients for Banana Poke Cake
1 box of yellow cake mix (plus the additional ingredients to make the cake)
2 (3.4 oz) packages of instant banana pudding
4 cups of milk
3 ripe bananas (diced)
1 (8 oz) frozen whipped topping (thawed)
20 vanilla wafers
How to Make Banana Poke Cake
First, preheat your oven to 350°F. Prepare the yellow cake mix according to the package instructions then in a greased 9×13-inch baking dish, bake the cake mix. Allow the cake to cool and then poke holes all over the cake using the handle of a wooden spoon or a chopstick.
Combine the banana pudding mix and milk in a medium bowl, whisk until smooth and starting to thicken. Pour the pudding over the cake evenly. Until the pudding is completely set, place the cake in the refrigerator. Over the top of the pudding layer, sprinkle the diced bananas and spread the whipped topping. In a resealable plastic bag, crush the vanilla wafers gently with a rolling pin. Sprinkle the wafers over the whipped topping, serve, and enjoy.
To see the original recipe that inspired this one, check out the recipe for Banana Poke Cake found at TipHero.