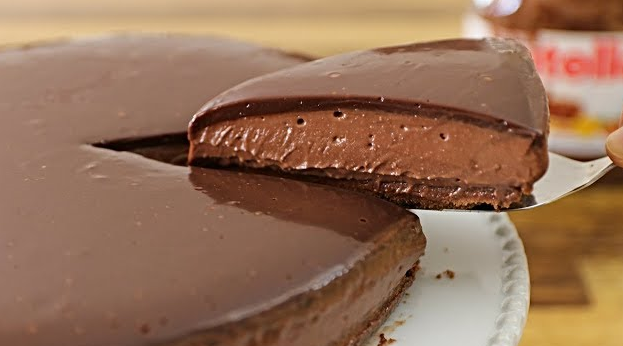 This is a delicious and pretty easy to prepare no-bake Nutella cheesecake. As the title suggests, we're going to add Nutella to this cheesecake and no baking involved. Quick and easy, but so creamy and delicious, this recipe will make about 10 slices of heavenly dessert.
This is a surprisingly super easy cheesecake to make. I surprise myself when I tasted the end result, it's delicious. I'm a traditional baker and if there's no baking involve; I will assume that it will be less tasty. I was wrong, and with this recipe, I want to share with you my version of cheesecake with the added Nutella.
This silky smooth, super creamy cheesecake will go great with any wine that you have. Or you can add that extra sweetness and pour some melted white chocolate on top. Be a little creative and add your own personal touch to it, you won't regret it.
Ingredients for No-Bake Nutella Cheesecake
FOR THE CRUST:
10oz chocolate biscuits/graham crackers
7 tablespoons butter (melted)
FOR THE FILLING:
2½ cups cream cheese
2/3 cup powdered sugar
1½ cups Nutella
1 tablespoon cocoa powder
1 teaspoon vanilla extract
FOR THE NUTELLA GANACHE:
1/3 cup heavy cream
2/3 cup Nutella
How to Make No-Bake Nutella Cheesecake
Process biscuits in a food processor until crumbs are formed. Add the melted butter and continue processing until combined then press into the bottom of an 8-inch springform pan. While you make the filling, put in the fridge.
Beat cream cheese and powdered sugar in a large mixing bowl until smooth and creamy. Add Nutella, cocoa powder and vanilla extract and continue beating until smooth. Into the springform pan, pour the cheesecake mixture. Refrigerate overnight or for at least 6 hours or you can freeze the cake.
In a large bowl, put the Nutella and set aside. Bring heavy cream to a simmer in a small saucepan, remove from the heat and pour over the Nutella. Let stand for about 1-2 minutes and stir until ganache is smooth. Let it cool slightly and pour over the cheesecake. Before serving, freeze for 2 hours.
To see the original recipe that inspired this one, check out the recipe for No-Bake Nutella Cheesecake found at The Cooking Foodie.