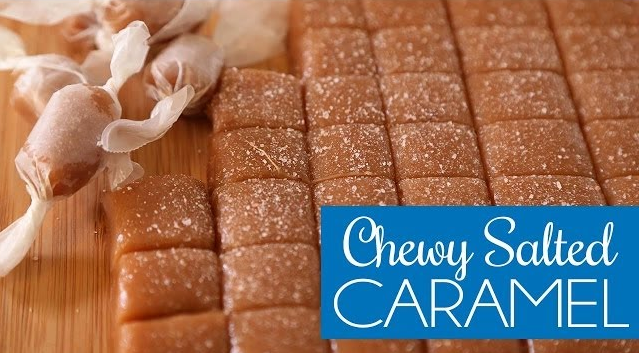 These chewy salted caramels are an easy-to-make, homemade holiday gift for family and friends, or maybe your neighbors, but most importantly, yourself.It's quite easy to make with some pretty basic ingredients that you probably already have in your kitchen. This recipe will make about 16 delicious and chewy treats.
I have a thing for chewy treats, I can't seem to have enough of it. So, when our neighbor brought me these delicious and chewy treats, I just have to make a recipe for it. I made it the other day and my kids just loved it.
Add a melted chocolate coating to make it even more delicious, a vanilla coating is also a great pair for it. Try adding something that you like and see how it tastes, you might surprise yourself and come up with a whole new twist for this recipe.
Ingredients for Chewy Salted Caramel
1 cup whipping cream
¼ cup salted butter
¼ teaspoon salt
¼ cup of water
¼ cup light corn syrup
1½ cups sugar
1 teaspoon vanilla extract
1 tablespoon liqueur (optional)
salt for garnish
How to Make Chewy Salted Caramel
Prepare a small baking dish (8×8) and line with parchment paper. To prevent the caramel from sticking, lightly oil parchment paper. Heat the cream, butter, and salt in a small saucepan until the butter has melted. Turn off the heat and set aside. Gently stir together water, corn syrup, and sugar in a large saucepan and while stirring, avoid getting any sugar crystals on the sides of the pan.  If you do, brush them down with a damp pastry brush.
Place the candy thermometer in the saucepan. You'll be working with very specific temperatures so the candy thermometer is critical. They're widely available and fairly inexpensive. Heat your saucepan to medium-high and once the saucepan is on the heat, DON'T stir the mixture. After about a minute, you'll start to see bubbles form around the edges and then push into the center.
Turn off the heat when your candy thermometer reaches 300˚Fand carefully whisk in the cream mixture. Turn the heat on to medium once the mixture is combined. DON'T stir. When the thermometer reads between 245˚F and 250˚F, your caramel is ready. Turn off the heat and stir in your vanilla extract and liqueur (if you choose) quickly. Burned bits may have formed and will end up in your finished product so be sure not to scrape the bottom of the pan. Pour the mixture into your prepared pan and to release any air bubbles, tap it on the counter a few times.
Before topping with salt, allow the caramel to set for about 20-30 minutes and before cutting, allow to set for at least 2 hours. Wrap the caramel bites individually with wax paper and store in the refrigerator for up to 1 week.
To see the original recipe that inspired this one, check out the recipe for Chewy Salted Caramel found at The Domestic Geek.