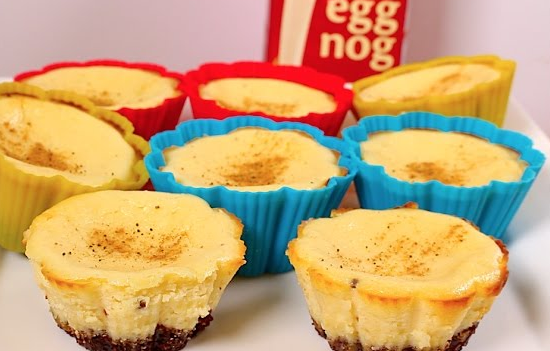 Everyone loves cheesecakes and for this holiday season, you can make this easy dessert for your family and friends. It's the perfect treat to have for Christmas and this recipe will make 9 mini eggnog cheesecakes to serve for your family.
It's almost Christmas and I want to make something a little different this time. Eggnog, is of course, a must-have for Christmas in my family and everyone always enjoy delicious cheesecakes. Why not combine them and make this amazing Christmas treat?
Melted chocolate, powdered sugar, cinnamon, probably any toppings that you can think of, you can add to this recipe. Add something you kids like on every cheesecake, they will love it.
Ingredients for Mini Eggnog Cheesecakes
1 cup cookies
2 tablespoons butter
12 oz cream cheese
1/2 cup sugar
1/2 cup eggnog
1 tablespoon flour
1 egg
1/2 teaspoon vanilla
1/2 teaspoon nutmeg
How to Make Mini Eggnog Cheesecakes
First, preheat your oven to 350 F. Put your cookies in a sealed plastic bag and crush them using a rolling pin into fine crumbs. Transfer the crushed cookies into a bowl and add in the butter and mix well. Prepare a muffin tray and fill with muffin holders and evenly distribute the cookie mixture into each of the muffin holders and press with the back of a spoon until firm.
For the filling: In a mixing bowl, add the cream cheese and sugar. Using a food mixer, beat until creamy. Add in the flour, egg, vanilla extract, nutmeg, and mix to combine. Pour into each of the muffin holders just until the top. Put into the oven for 20 minutes. Once done, take them out and allow them to cool to room temperature, then put in the refrigerator for 2 hours. Serve and enjoy.
To see the original recipe that inspired this one, check out the recipe for Mini Eggnog Cheesecakes found at Todd's Kitchen.