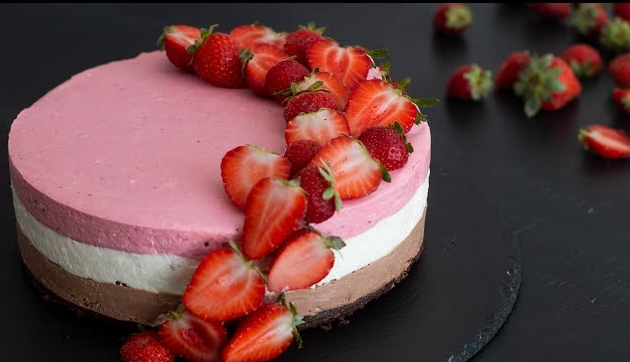 This Cheesecake is so heavenly that everybody will want seconds. I'm not kidding, a perfect balance between vanilla and chocolate strawberry with creamy smooth silky cream cheese layers on top of a brownie. The perfect cake for any occasion and this recipe will make about 10-12 servings.
I've eaten cheesecake plenty of times, it sort of lostits charm for me. But when I ate this cheesecake that a friend brought me, oh my god, I just had to research it and make a recipe for it. It's so creamy and smooth, silky cream cheese is to die for. 
This cake is already amazing as is, but I always wanted to add my own little twist to any recipe that I make. So, I added coffee cream topping because I just love coffee and it pairs quite nicely. You can add a little something too, make a little twist of your own.
Ingredients for Brownie Neapolitan Cheesecake
BROWNIE:
1.5-ounce semisweet chocolate
1/4 cup butter
1/3 cup sugar
1 egg
1 teaspoon vanilla extract
1 tablespoon unsweetened cocoa powder
1/4 teaspoon salt
1/4 cup flour
FOR STRAWBERRY JELLY:
10 ounces fresh or frozen strawberries
1/4 cup sugar
1 tablespoon lemon juice
1/2 tablespoon gelatin powder
2 tablespoons water
CREAM CHEESE FILLING:
21 oz cream cheese, softened
2/3 cup powdered sugar
2 teaspoon vanilla extract
1 1/4 cup whipping cream (chilled)
1 1/2 teaspoon gelatin powder
3 tablespoons cold water
FOR CHOCOLATE LAYER:
2 oz semisweet chocolate
2 tbsp cream
How to Make Brownie Neapolitan Cheesecake
For the strawberry puree: put gelatin and water in a small bowl and let it bloom for 10 minutes. In medium-low heat, cook strawberries, sugar, and lemon juice. Bring to a boil and continue to stir for 5 minutes. Use a sieve to remove the seeds and then add the gelatin and stir until dissolved. Reserve half of the puree and let it cool.
With plastic wrap, line a 7-inch (18cm) round pan. Into the pan, pour the other half of the strawberry puree and freeze until ready for at least 2 hours. Preheat oven to 350F (180C). Grease and line an 8-inch (20cm) springform pan with parchment paper.  
Melt the chocolate and butter using a double boiler, but if you do not have one, you can just put a bowl over a saucepan with boiling water. Remove pan from heat but keep the bowl over the water and then add the sugar. Remove bowl from the pan and let it cool slightly before adding the egg. Using a wire whisk, mix the ingredients and then combine vanilla, flour, salt, and cocoa powder. Pour batter into the springform pan and bake for 15 minutes until a toothpick inserted comes out clean. Remove from the oven and let it cool.
In a small bowl, melt the chocolate and cream, over a bain-marie and let cool to room temperature. Mix cream cheese in a large bowl until smooth then add powdered sugar and vanilla extract and mix to combine. Whip the chilled whipping cream in another bowl until stiff peaks form and gradually incorporate into cream cheese mixture. Dissolve the gelatin in cold water and let it swell for about 5 – 10 minutes. Just until the gelatin dissolves, place over low heat and then pour it over cream cheese mixture and incorporate and divide cream cheese mixture in 3. Reserve about 10 oz (300g) for the strawberry and chocolate layers and about 13 oz (380g) for the white layer. Into one bowl of cream cheese mixture, incorporate the melted chocolate and pour over the cooled brownie then smooth the surface and before adding the next layer, freeze for 15 minutes. Add the white cream cheese layer and remove the frozen strawberry jelly and add it on top of the white layer. Cover with a thin layer of cream cheese mixture and smooth the surface. Freeze for another 15 minutes. 
Combine the reserved strawberry puree in the remaining bowl of cream cheese mixture. Pour on top and smooth the surface. Refrigerate overnight or at least 4-6 hours to set. Garnish with fresh strawberries on top to make it more appetizing.
To see the original recipe that inspired this one, check out the recipe for Brownie Neapolitan Cheesecake found at Home Cooking Adventure.