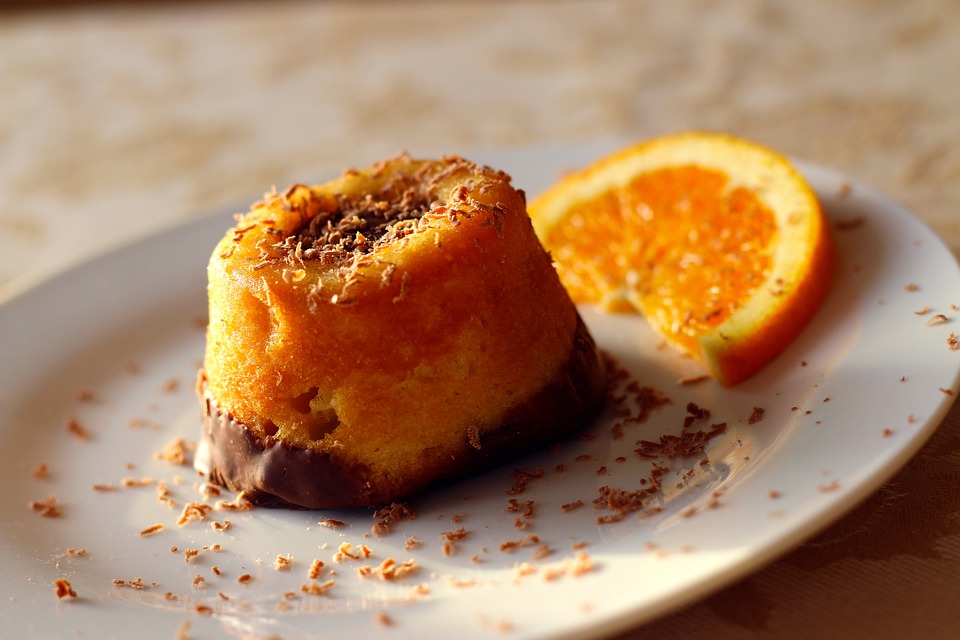 How about a great flavored muffin with orange and all of that dipped with chocolate glaze? Sounds amazing, right?
Yes, you can make this delicious recipe in less than 25 minutes with just the simplest of the ingredients, and you will find it so easy to make and to eat as well.
The orange zest and juice add a hint of freshness to the recipe. Sour cream is here to add a kick of richness in the muffins, and let's not forget about the beautiful and easy to make a chocolate glaze that you are going to dip these muffins in. The last touch gives a very charming and elegant presentation – orange zest. I am going to tell one thing – grab the simplest ingredients in your kitchen and start cooking up a storm.
This Upside down orange muffins with chocolate are perfect to make for any celebration or just friends or family gathering. They are perfect for Weekend bake-off and show off.
If you want, you can substitute the orange juice and zest with lemon zest and juice, but I found that orange and chocolate make the perfect food pairing, so orange is a better option for the recipe, but anyway, you cannot go wrong either with lemon or orange. 
Ingredients for Upside-Down Orange Muffins with Chocolate
For the batter: 
 1 ¼ cups all-purpose flour 
 ¾ cup granulated sugar 
 2 teaspoons baking powder 
 3 large egg whites 
 ¼ cup sour cream 
 ¼ teaspoon salt 
 6 tablespoons butter, softened 
 ¼ cup milk 
 1 tablespoon water 
 juice and zest of 1 orange 
 1 teaspoon vanilla extract
For the chocolate filling: 
 5 ounces chocolate 
 2 tablespoons butter 
 zest and juice of 1 orange 
 1 teaspoon vanilla extract
How to Make Upside-Down Orange Muffins with Chocolate
Preheat your oven to 350F degrees or 180C degrees. Grease muffin tin with cooking spray and set aside. In a large bowl, combine together the dry ingredients: flour, salt, and baking powder.
In a large mixing bowl beat in the egg whites alongside with half of the sugar until fluffy and combined. In another bowl, beat in the butter and the remaining sugar. Add half of the dry ingredients and mix alongside sour cream, milk, vanilla extract, water, orange juice, and zest. Fold in half of the meringue, taking care not to over mix it. Fold in the other half and mix with the help of a spatula and pour the batter in a sprayed muffin tin, filling ¾ of the way full. Bake for 15-17 minutes or until golden brown and inserted toothpick comes out clean.
In a bowl over a simmering saucepan, melt the chocolate and butter when it's ready to add in orange juice and vanilla extract. Stir well and dip each already cooled muffin in the chocolate mixture. Drip any access and garnish with orange zest on top.
To see other recipes for Upside-Down Orange Muffins with Chocolate, check out: 
https://tastykitchen.com/recipes/desserts/fresh-orange-cupcakes-with-double-chocolate-frosting/
https://greedyeats.com/orange-cupcake-recipe-orange-frosting/
http://www.muffinton.com/product/orange-cupcake-with-chocolate-icing/