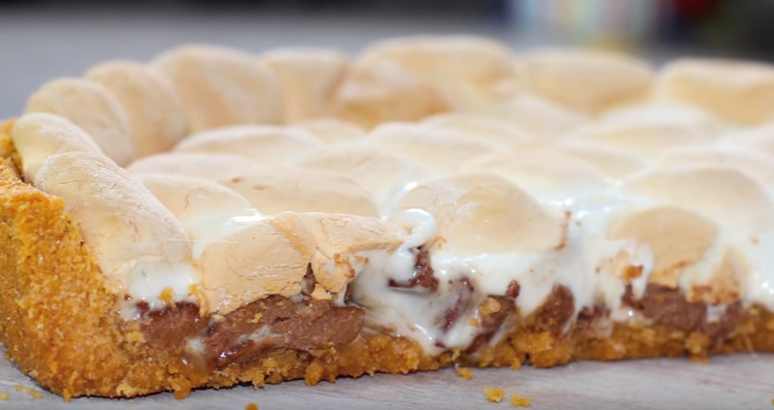 I love pie it has that homely feel about it so I just had to find you a recipe for National Pie Day , but not just any recipe I wanted to find you one that was gooey and yummy all in one and I think I found it in this s'mores pie that is just simply delicious with that chocolate and marshmallow filling and the crumb base .. yummy
So easy to make so why not make one for your family or friends today and celebrate this food day in style
This great recipe has been brought to you by MyCupcakeAddiction on YouTube , thanks for sharing it with us
Here below is a list of the ingredients you will need and the video tutorial to watch both from the YouTube channel
Recipe:
120g melted butter
1/2 cup sugar
500g crushed white cookies (graham crackers if you can get them!)
360g milk chocolate
MARSHMALLOWS!! As many as you can fit 🙂
Oven 350f / 175c
15mins for the base, 15 mins for the top!
NATIONAL PIE DAY
National Pie Day is celebrated annually on January 23rd.
National Pie Day, an unofficial national holiday, was created simply to celebrate the pie.  It is a day for all to bake or cook their favorite pies.  Even more importantly, it is a day set aside for all to enjoy eating pies!
The first pies appeared around 9500 BC in the Egyptian Neolithic period or New Stone Age.
Fun Tidbit – Pie throwing:
Cream filled or topped pies are favorite props for humor.  Throwing pie in a person's face has been a staple of film comedy since Ben Turpin received one in Mr. Flip in 1909.
Go out for pie or try one of the following "tried and true" recipes:
Caramel Drizzle Macchiato Pie
Apple Pie by Grandma Ople
Perfect Pumpkin Pie
Blueberry Pie
Article Source :http://www.nationaldaycalendar.com/national-pie-day-january-23/