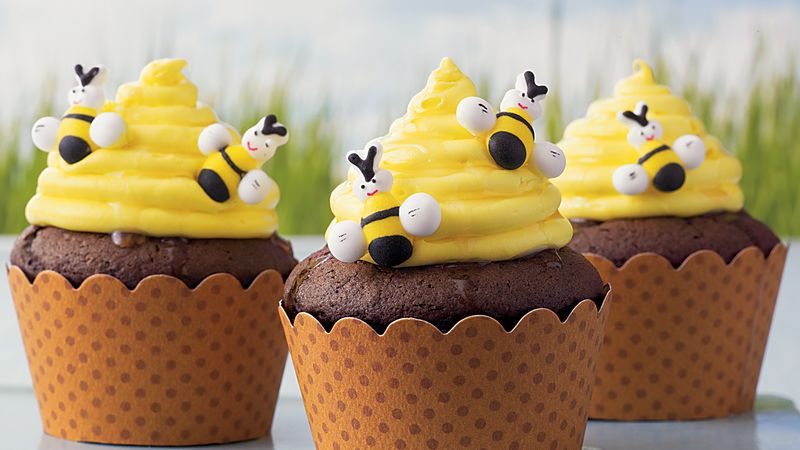 Cupcakes you have got to love them from making them through to eating them so I was really pleased to come across a selection of cupcake recipes that have been inspired by Spring and I just had to share them with you , so how about making these amazing Beehive Cupcakes, they look amazing and are bound to add that touch of Spring to you party or special occasion
 All about Cupcakes 
Cupcakes are known today as teeny, delectable desserts. But did you know that cupcakes have been around since the 19th century? Then, they were made with simple cake recipes, and they were far from the decadent desserts we can find today. Although classic vanilla with chocolate icing options are still popular and evoke a sense of nostalgia, upscale bakeries and even people who bake for a hobby have created elaborate flavors with even more elaborate options for design.
This website is designed to let you know that there's a little more to the cupcake than meets the eye. Explore the history of the cupcake, as well as the cupcake's increasingly prevalent role as a trendy item. Learn tips and tricks to creating your own cupcakes, and try out some recipes. Under the "Cupcakes Today" link, I have included a slide show of some examples of how people decorate cupcakes – they're more complex than you might think!
What I hope you get from this site is a greater understanding and hopefully a greater appreciation for these desserts. Cupcakes can remind us of elementary school days or they can become decadent works of art.
 Article Source :http://iml.jou.ufl.edu/projects/Spring07/Ayers/
This great recipe has been brought to you by bettycrocker.com website , thanks for sharing it with us
 Here below is a list of the ingredients you will need from the website
Betty Crocker® FUN da-Middles™ chocolate cupcake mix and frosting come together in these decorative beehive cupcakes – perfect dessert to impress your guests.
Ingredients
1 box Betty Crocker™ FUN da-Middles™ chocolate cupcake mix with creamy vanilla filling
Water, vegetable oil and eggs called for on cupcake mix box
1/2 teaspoon yellow gel food color
2 containers (12 oz each) Betty Crocker™ Whipped fluffy white frosting
Candy honeybee decorations, if desired
1 tablespoon honey