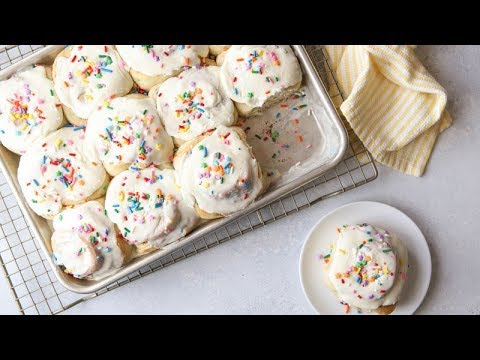 How about making these delicious Birthday Cake Cinnamon Rolls for your next Birthday or a family or friends one , something to enjoy together on this special occasion for breakfast , what a great way to start the day off
Sometimes I just like to follow a recipe that is a video tutorial rather than a written recipe as you can see what the end result looks like and with these Betty Crocker recipes that are on YouTube I just love them it give you the ingredients as the recipe is shown so easy to follow with amazing results every time
As I said this recipe comes from Betty Crocker on YouTube so thanks very much for sharing it with us
Here below is the video tutorial to watch .. Happy Baking
Whether you're celebrating a birthday or the start of the weekend, these cake mix cinnamon rolls are the perfect excuse to eat sprinkles for breakfast.
Ingredients
1 1/4 cups warm water (105°F to 115°F)
1 package (2 1/4 teaspoons) regular active dry yeast
1 box Betty Crocker™ SuperMoist™ rainbow chip cake mix
2 1/2 to 3 cups Gold Medal™ all-purpose flour
1/4 cup of butter, melted
1 teaspoon ground cinnamon
1/2 cup light or dark brown sugar
2 tablespoons rainbow candy sprinkles
1 container Betty Crocker™ Rich & Creamy Frosting Cream Cheese
Additional rainbow candy sprinkles
Steps
1. Grease 13×9-inch pan or 2 (9-inch) round cake pans with shortening or cooking spray.
2. In small bowl, mix warm water and yeast; let stand 5 minutes.
3. In large bowl, mix cake mix and 2 cups of the flour. Add water-yeast mixture; stir with wooden spoon until dough forms. Add remaining flour 1/4 cup at a time, stirring between each addition, until it comes together in a ball. You may not need all of the flour. Cover with plastic wrap, and let rise in warm place until doubled, about 1 hour.
4. Gently punch down dough, and then reshape into ball. On lightly floured surface, roll dough into large rectangle about 1/4 inch thick. Brush with melted butter; sprinkle with cinnamon, brown sugar and rainbow sprinkles. Starting with 1 long end, tightly roll up dough into a log. Cut into 12 rolls.
5. Place rolls in pan(s); cover with plastic wrap. Let rise about 30 minutes while you heat oven to 375°F.
6. Bake 20-22 minutes for a 13×9-inch pan and 12-15 minutes for 9-inch round pans or until golden brown. Cool 5 minutes; spread with frosting. Sprinkle with additional sprinkles. Serve warm or at room temperature.