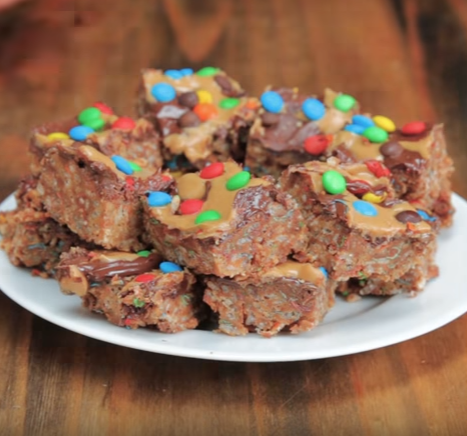 As soon as I came across this recipe for Chocolate Peanut Butter Rice Treats I just had to share it onto you it is so easy to make great for that party treat or even for pack lunch .. children I am sure love to help make these .. a great weekend recipe
This great recipe has been brought to you by Tasty on YouTube, thanks for sharing it with us
Here below is  the recipe and the video tutorial both from the YouTube channel
Here is what you'll need!
Chocolate Peanut Butter Rice Treats
Servings: 16
INGREDIENTS
2 cups peanut butter
3 cups marshmallows
3 cups crispy rice
1½ cups chocolate candies
2 cups chocolate chips. melted
PREPARATION
In a sauce pan, combine and mix the peanut butter and marshmallows over medium heat, stirring constantly. Lower the heat and cook until melted. Remove from heat.
Add crispy rice and 1 cup of chocolate candies.
Mix until evenly combined.
Turn mixture into buttered 9×9 pan.
Melt 2 cups of chocolate chips in a bowl in 30-second increments.
Pour melted chocolate over pan and spread evenly.
Melt 1 cup of peanut butter and drizzle over chocolate.
Sprinkle ½ cup of chocolate candies over top.
Chill for 2-4 hours.
Cut into squares.
Enjoy!