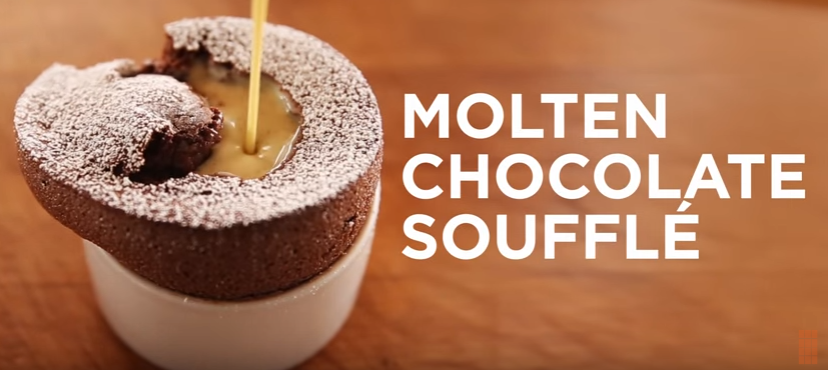 I really love souffle they are so light and delicious so I was so pleased that today is National Chocolate Souffle Day, so that I could find you a recipe so how about making this molten chocolate souffle that has that wonderful crème anglaise middle that is poured in
This great recipe is brought to you by ChefSteps on YouTube and chefsteps.com website, thanks for sharing this recipe with us
Here below is an excerpt about this recipe from the website and the video tutorial from YouTube
This dark chocolate soufflé has a delicious molten center and a light, springy exterior—pure chocolaty decadence from the inside out.

The best part is that this recipe requires no special tools or skills. Soufflés have a reputation for being particularly finicky, but we think ours are pretty much foolproof. Serve yours with a dusting of powdered sugar and crème anglaise for a sexy dinner party, or just whip up a batch on a weekend  …Once you master soufflés, you'll want to make them for any occasion—or no occasion at all.
 To Get The Recipe Please Use The Link Below

February 28 is National Chocolate Souffle Day
Here are today's five thing to know about Chocolate Souffle:
Supposedly, the first recipe for soufflé appeared in Vincent La Chapelle's Le Cuisinier Moderne (1742).
The word soufflé first appeared in English in Louis Ude's The French Cook, 1813.
By 1845 was so commonly accepted that in Eliza Acton's Modern Cookery (1845) a recipe for soufflé was included as just another recipe.
Due to soufflés' tendency to collapse quickly upon removal from the oven, the media frequently depicts the dessert in sitcoms, cartoons, children's programs and movies as a source of humor.
Another kind of dish entirely is soufflé potatoes, which are puffed-up sautéed potato slices, traditionally served with a chateaubriand steak.
Article Source :https://foodimentary.com/2016/02/28/february-28-is-national-chocolate-souffle-day-3/