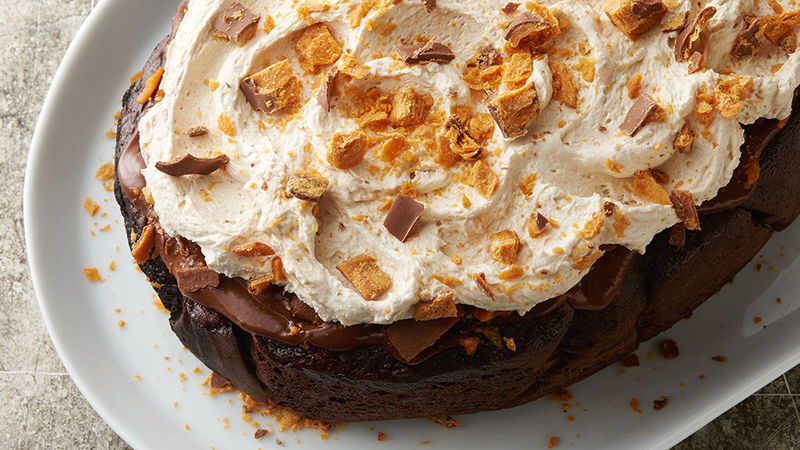 We all seem, to love to make desserts, it  is one of my personally favourites especially when I have family over for the weekend I love to get into the kitchen and make something special for them .. so I just found a few recipes that are called Sweet Treats That Are Totally Worth It.. like this one for a Slow-Cooker Butterfinger Chocolate Poke Cake
So good so why not check it out
Dig in, enjoy, and regret nothing. These oh-so-satisfying desserts are 100 percent worth it.
This great recipe has been brought to you by tablespooon.com, thanks for sharing this recipe with us
We're not ones to play favorites, but how do you top an ooey-gooey chocolate poke cake (that basically makes itself) covered in peanut butter fluff and Butterfinger™ pieces? Answer: You don't.
Ingredients
Cake
1 box Betty Crocker™ SuperMoist™ chocolate fudge cake mix
1 1/4 cups water
3 eggs
1/2 cup creamy peanut butter
1/3  cup butter, melted
Toppings
1 box (4-serving size) chocolate instant pudding and pie filling mix
2 cups milk
2 Butterfinger™ candy bars (1.9 oz each), coarsely chopped (about 3/4 cup)
2 1/2 cups frozen whipped topping, thawed
1/4 cup creamy peanut butter