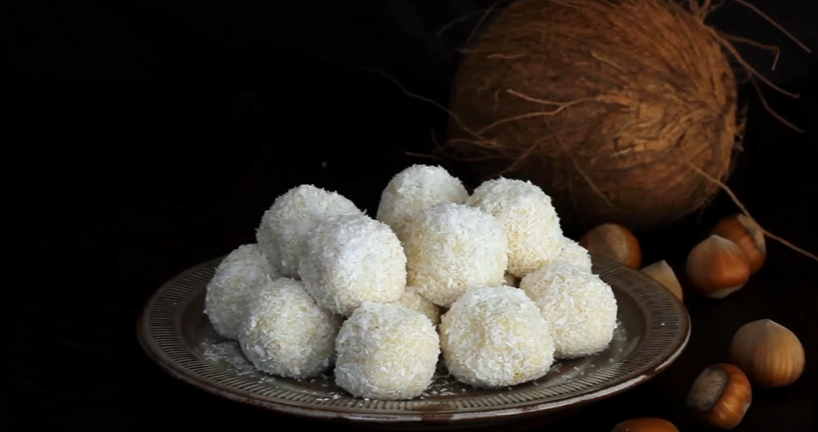 Welcome to 24 days Of Christmas Baking .. a count down to baking wonderful recipes for the family and friends to enjoy 
I love Christmas baking so I wanted to find you some recipes that I think you may love and share one with you each day ..
 Day 10

 ….

White Chocolate And Coconut Truffles 

These truffles are so good I made them last year, so I just had to find the recipe againg and share it with you, as you will see they are easy to make and are just perfect for after your Christmas dinner with coffee or liqueurs .. I love them

This great recipe has been brought to you by Home Cooking Adventure on YouTube,thanks for sharing this recipe with us

Here below is the recipe and the video tutorial both from the YouTube channel  .. happy baking

Ingredients
Makes about 20 truffles
1/4 cup (60ml) whipping cream (35%fat)
7 oz (200g) white chocolate, good quality, broken into chuncks
1 tbsp (14g) butter
1/2 tsp vanilla extract, optional
1/3 cup (33g) unsweetened coconut flakes
zest from an orange, optional
20 hazelnuts, toasted or not
1/3 cup (33g) unsweetened coconut flakes for rolling

1. Melt chocolate with cream in a bain marie over low heat. Stir continuously until the chocolate is almost melted. Add butter and continue stirring until smooth. Remove from heat. Add vanilla extract and orange zest if using.
2. Stir in coconut flakes, let it cool, cover and refrigerate for a couple of hours until the mixture gets firm enough to roll it into balls.
3. Using a teaspoon roll the mixture into small balls adding a hazelnut inside. Roll each ball into coconut flakes. Serve or refrigerate until ready to serve. They keep well refrigerated in an airtight container for up to 2 weeks.