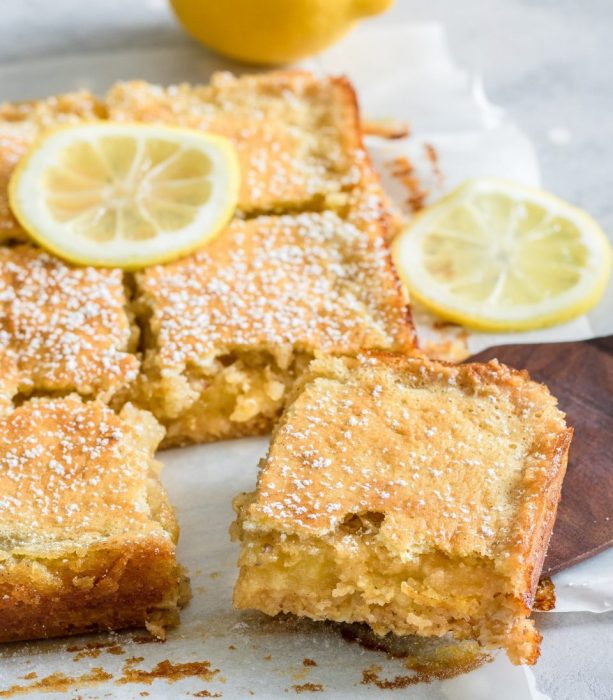 Do you find your taste buds craving for something sweet, but at the same time refreshing? A nice citrus-infused dessert will please them in the best possible way. When life gives you lemons, make some extra delicious lemon squares!
Sour and sweet is a combination that works excellent for desserts. These tasty lemon squares are the right example for that. Having the perfect balance between the two opposite flavors, it will amaze even the pickiest eaters. The freshness of the lemon juice is known to lift up any recipe, so make sure that you use it in the right doses.
This is the kind of dessert that is a good refreshment, and perfect for the days when you don't feel like eating too sweet and sugar-rich cakes. You will find out that a fine butter crust layered with some rich lemon filling will be the ultimate recipe for the summer.
The best thing is that the preparation process will not take much time and effort, which leaves you more space for actually enjoying the dessert. If you don't like time-consuming recipes, then this one will amaze you with simplicity.
Ingredients for Lemon Squares 
For the crust:
3 ½ cups of all-purpose flour
½ cup confectioner sugar
½ cup of wheat germ
½ salt
1 pound (2 cups) cold unsalted butter
For the filling:
8 large eggs
4 cups granulated sugar
2/3 cup all-purpose flour
¾ cup fresh lemon juice
1 tablespoon freshly grated lemon zest
¾ cup fresh lime juice
½ teaspoon salt
How to Make Lemon Squares 
Preheat your oven to 350 F or 180 C.
In a large bowl, place in all of the ingredients listed for the crust. Using your hands, combine all of the ingredients until cookie dough forms. In a 12 ½ inch by 17 ½ inch rimmed baking sheets spread the crust dough and press evenly. Bake until golden brown 20-30 minutes. Transfer to a wire rack until completely cool.
To prepare the filling, whisk together the eggs, sugar, and flour in a medium bowl. Add lemon juice, lemon zest, and lime juice and salt. Whisk to combine and pour to the chilled crust. Place the whole tray back into the oven and bake until the center is set for about 30 minutes. Let it chill completely and cut into squares and serve.
Enjoy.
To see the original recipe that inspired this one, check out the recipe for Lemon Squares found at Everyday Food.