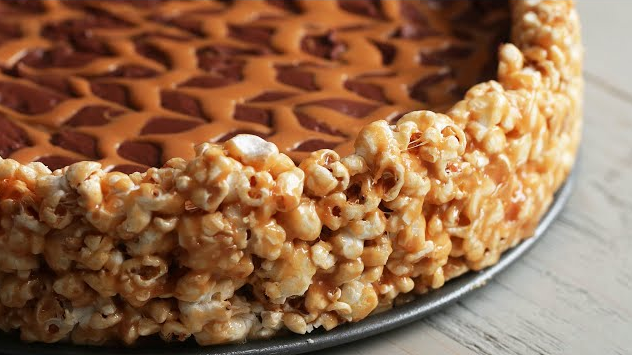 Chocolate peanut butter popcorn pie is a magnificent and tasty pie recipe with the soft, sweet, creamy, chocolaty, buttery and crunchy texture of the crust. This recipe is bliss for chocolate and caramel lovers. The crunchy crust of popcorn and the inner chocolate and peanut butter filling blends really well with each other. The dish can also be used as a dessert in your everyday life or for an event and, your kids and family will be impressed by your cooking. The ingredients of the recipe are simple, you can find them in your kitchen. This quick, easy to make recipe is superb for 8 to 10 servings.
A few days ago, I learned this recipe from my mom and I were really excited to try this at home. My kids are chocolate lovers, so do my husband. In everything they want chocolate and if there is chocolate, then this is going to be one of their favorite desserts. The recipe is so delicious that you don't need to have a second thought. Try this recipe at home and do share your family praises with me.
The chocolate peanut butter popcorn recipe can be served in a simple plate or tray and you can just cut it into pieces and plate out according to your will. This is a complete recipe in every aspect you don't need anything else to garnish it but if you really want, then you may add nuts on it. The easy to make recipe can be prepared in 25 minutes and cooling time is 4 hours.
Ingredients for Chocolate Peanut Butter Popcorn Pie
2 tablespoons unsalted butter
200 g or 7 oz. Marshmallow
2/3 cup peanut butter, divided
8 cups popcorn
Non-stick cooking spray or oil for greasing
For Filling
2 cups dark chocolate chip
2 cups milk chocolate chips
1 1/2 cups heavy cream
4 tablespoons powdered sugar, divided
2 tablespoons vanilla extract
3 tablespoons milk
How to Make Chocolate Peanut Butter Popcorn Pie
Melt the unsalted butter in a pan and add marshmallows and stir the mixture at medium heat. Then add 1/3 cup peanut butter and combine the ingredients together and remove the pan from heat. Add the popcorn in this pan, mix them together. Let the mixture cool for 2 minutes. Take a 9" springform pan and grease it with oil or nonstick spray. Add popcorn in the pan and press at the bottom and sides with a bowl to make a crust of the pie. Now prepare the chocolate filling.
For filling take a large bowl, add milk chocolate chips and dark chocolate chips in it. Melt them in a microwave and stir it in every the 2 minutes and 30 seconds of interval. Take another bowl and pour heavy cream into it. Beat this cream with an electric beater. Then add 3 tablespoons of sugar and 1 teaspoon vanilla extract and mix them well. Now combine this cream and cooled melted chocolate gently.
Pour this filling into popcorn crust and spread it evenly. Take a small bowl and mix remaining 1/3 cup peanut butter, 1 teaspoon sugar, milk and 1 teaspoon vanilla and extract. Combine the ingredients well and transfer them to the zip-top bags. Draw the straight parallel lines with this peanut butter mixture on chocolate filling and drag these lines with a toothpick in perpendicular to these lines.
Chill the pie in a refrigerator for about 4 hours and remove it from the springform pan.
Cut the scrumptious chocolate peanut butter pie into slices and enjoy it with your family!
To see the original recipe that inspired this one, check out the recipe for Chocolate Peanut Butter Popcorn Pie found at Tasty.