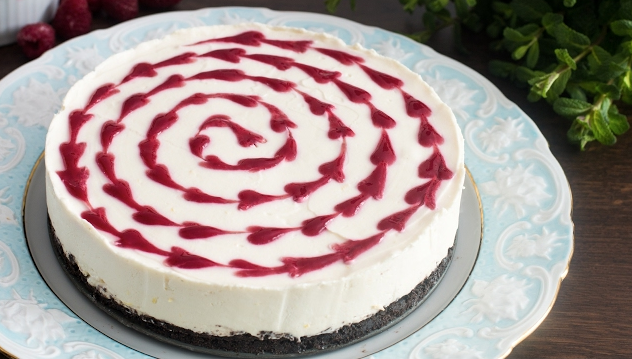 This recipe represents the best No bake cheesecake I've made so far and it's very easy to prepare.
When you hear about no-bake cheesecakes you will immediately think of no-bake crust made out of cookies just blitz in a food processor, and you will end up having cheesecake crust in less than 5 minutes, which is totally cool for lazy cooking (we all have those days in our lives).
The filling is kind of different in this recipe. I used something that can fix the whole filling and it isn't gelatin – instead of that, I used white chocolate. Not only it sets the filling it also brings so much flavor to the cream cheese and whipped cream filling to this cake.
And finally here is the raspberries coulis that when you dollop it on top of the cheesecake you can make shapes in the form of hart which makes this dessert perfect for Valentine's day.
You will make this cake in less than 20 minutes but it needs to set up for several hours so you will have cheesecake consistency and cut clean slices.
Enjoy this beautiful recipe!
Ingredients for No Bake Raspberry White Chocolate Cheesecake

For Raspberries coulis :
1 1/2 cups (150g) raspberries, fresh or frozen
1/4 cup (50g) sugar
1 tbsp (15ml) lemon juice
1 tsp (2g) cornstarch
For the crust:
7 oz (200g) Oreo cookies
4 tbsp (60g) butter, melted
For the cream cheese filling:
7 oz (200g) white chocolate, small pieces
4 tbsp (60g) whipping cream
1 pound (500g) cream cheese, room temperature
1/4 cup (30g) powdered sugar
Lemon zest of a lemon
2 tsp (10g) vanilla extract
1 cup (240g) whipping cream (35% fat), chilled
How to MakeNo Bake Raspberry White Chocolate Cheesecake 
To make the raspberry coulis, in a saucepan over medium heat place in sugar, raspberries, lemon juice, and cornstarch. Whisk with the help of a wire whisk until it thickens. Transfer over a fine sieve on a bowl to remove any seeds.  Set aside.
In a food processor place in the Oreo cookies and melted butter. Blitz until fine crumbs forms. Transfer the crumbs over an 8-inch springform pan and evenly level out. Let it chill in the refrigerator for about 10-15 minutes.
Place in white chocolate chips and whipping cream in a bowl over a small saucepan with simmering water and melt it completely.
In a large mixing bowl add in the soften cream cheese and powdered sugar and mix with a hand mixer until fluffy and nice combined. Add in vanilla extract, lemon zest, and melted chocolate. Mix well until smooth and well incorporated. Whip up some whipping cream and stir it in the cream cheese filling. Mix well with the help of a spatula and transfer the cream cheese filling into chilled crust. Smooth evenly with offset spatula.
Transfer the Raspberry coulis in a piping bag and pipe out some circles in a swirl pattern. Use a toothpick to create heart shapes. Cover the Cheesecake with a plastic wrap and refrigerate for a minimum of 4 hours, but overnight is even better.
Enjoy.
To see the original recipe that inspired this one, check out the recipe for No-Bake White Chocolate Raspberry Cheesecake found at Home Cooking Adventure.