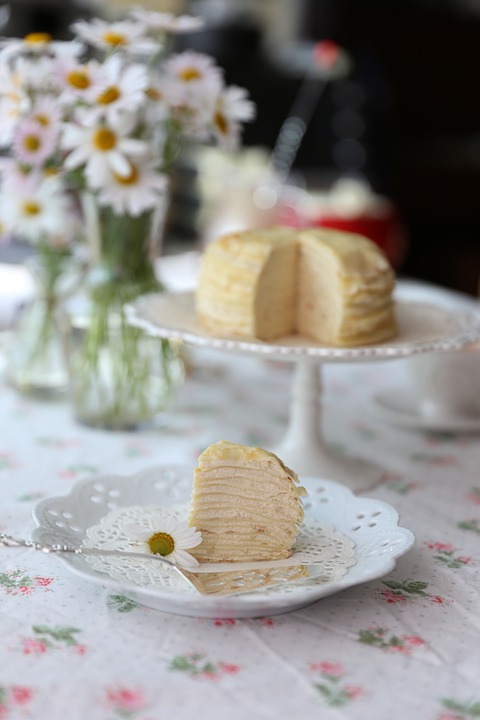 If you are craving for something show-stopping, presentable, delicious, but so easy to make and to assemble, then you need to stop right here and take a look in this incredible white chocolate Mille crepe cake recipe. It is one of a kind and will amaze all of your taste buds for sure. 
The creamy filling with white chocolate and crispy crepes in thousands of layers makes this cake even prettier and show-stopping. It can be made for the potluck gathering, for weekend's BBQ, or just a plain birthday party with your closest family and friends. 
If you doubt that you can't make this show-stopping looking dessert, then you are really wrong. Once you make it, you will see how this show-stopping cake looks so deviously, and it's so easy to be put together. You can either change the filling with dark chocolate if you want or add a splash of your favorite liquor just for a little bit of kick or leave the recipe as it is. Yum!
Ingredients for White Chocolate Mille Crepe Cake 
For the crepes: 
 3 eggs, 
 1 cup milk 
 1 ¼ cup all-purpose flour 
 3 tablespoons sugar
 3 tablespoons melted butter
 pinch of salt 
 zest of 1 lemon 
For the White chocolate filling:
 8 oz. white chocolate, melted 
 1 ½ cups heavy whipping cream 
 2 teaspoons vanilla extract 
 3 tablespoons powdered sugar
How to Make White Chocolate Mille Crepe Cake 
 In a large bowl, mix all of the ingredients required for the crepes and fry them on a preheated frying pan with cooking oil. Fry them up to 2-3 minutes on each side. 
To make the filling – in a large mixing bowl, whip up the whipping cream alongside with powdered sugar and vanilla extract. Add in the melted white chocolate. Mix well and fill each cooled crepe and assemble the cake laying each other cake on top of another. 
Serve chilled. 
To see other recipes for White Chocolate Mille Crepe Cake, check out: 
https://www.eatloveeats.com/white-chocolate-lemon-curd-crepe-cake/
https://lepetiteats.com/eggnog-crepe-cake/
https://www.floatingkitchen.net/white-chocolate-and-peppermint-crepe-cake/