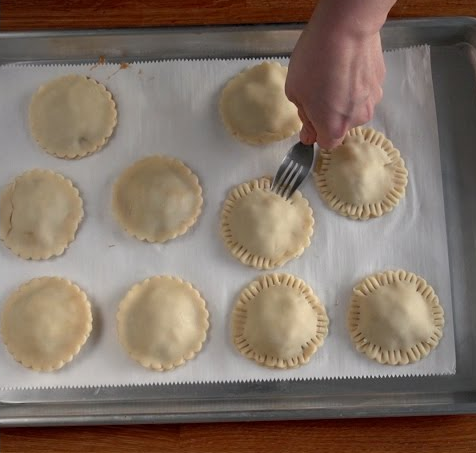 Who doesn't like apple pie? Such a classic American dessert that has a lot of variation to it. Today, we're going to make apple pie cookies. Don't worry mommies, it's not complicated and won't take much of your time. The perfect dessert for the holiday season and to bring to your family get together. This recipe will make about 10 apple pie cookies, but it's so easy to make, make more!
I can't even remember how many apple pies that I've had up until now. My grandmother made it, my mother makes it, even my husband tried making it once but failed, lol. This recipe is just my version of the apple pies that we all know and love. Something simple and easy for everyone to enjoy.
A mug of hot chocolate or a scoop of ice cream on top is a great pair for these cookies. If you don't have them and don't feel like going out to buy them, just add something that you already have, dust some powdered sugar, drizzle some syrup, anything you like.
Ingredients for Apple Pie Cookies
2-3 Granny Smith apples (peeled, cored, and diced ¼ inch)
1/3 cup packed brown sugar
1 teaspoon apple pie spice
1/2 teaspoon cinnamon
2 tablespoons butter
1 tablespoon corn starch
1 box pie crust (contains 2 crusts)
egg wash (1 egg+ a splash of cream, beaten)
How to Make Apple Pie Cookies
Preheat the oven to 375 F. Linea baking sheet with parchment paper. In a skillet, melt the butter over medium heat then add the diced apples, apple pie spice, cinnamon, and cornstarch. Cook until the apples start to soften and the cornstarch thickens the sauce (about 3-5 minutes). Remove from the heat once the apples are almost tender and let cool to room temperature.
Unroll one of the pie crusts and roll it out about 1/2 inch larger in diameter using a rolling pin. The first larger crust will be used on top to enclose the filling. Unroll the second crust and then spoon 1 tablespoon of the apple filling. Make sure to leave enough space to seal and cut around each mound of filling, repeat around the whole crust. You should be able to fit about 10 mounds of filling.
Using a pastry brush, brush the egg wash around the filling and out to the edges. Place the larger crust over top and press down gently between the mounds of filling. With a 2 ½ or 3-inch round cutter, cut around each of the mounds of filling. Lift up the apple pie cookies and place them on the lined baking sheet. Press to completely seal the edges then crimp the edges with a fork. With the egg wash, brush the tops then cut slits in the top of each crust to allow steam to escape. Bake until golden brown (15-18 minutes), serve and enjoy.
To see the original recipe that inspired this one, check out the recipe for Apple Pie Cookies found at TipHero.