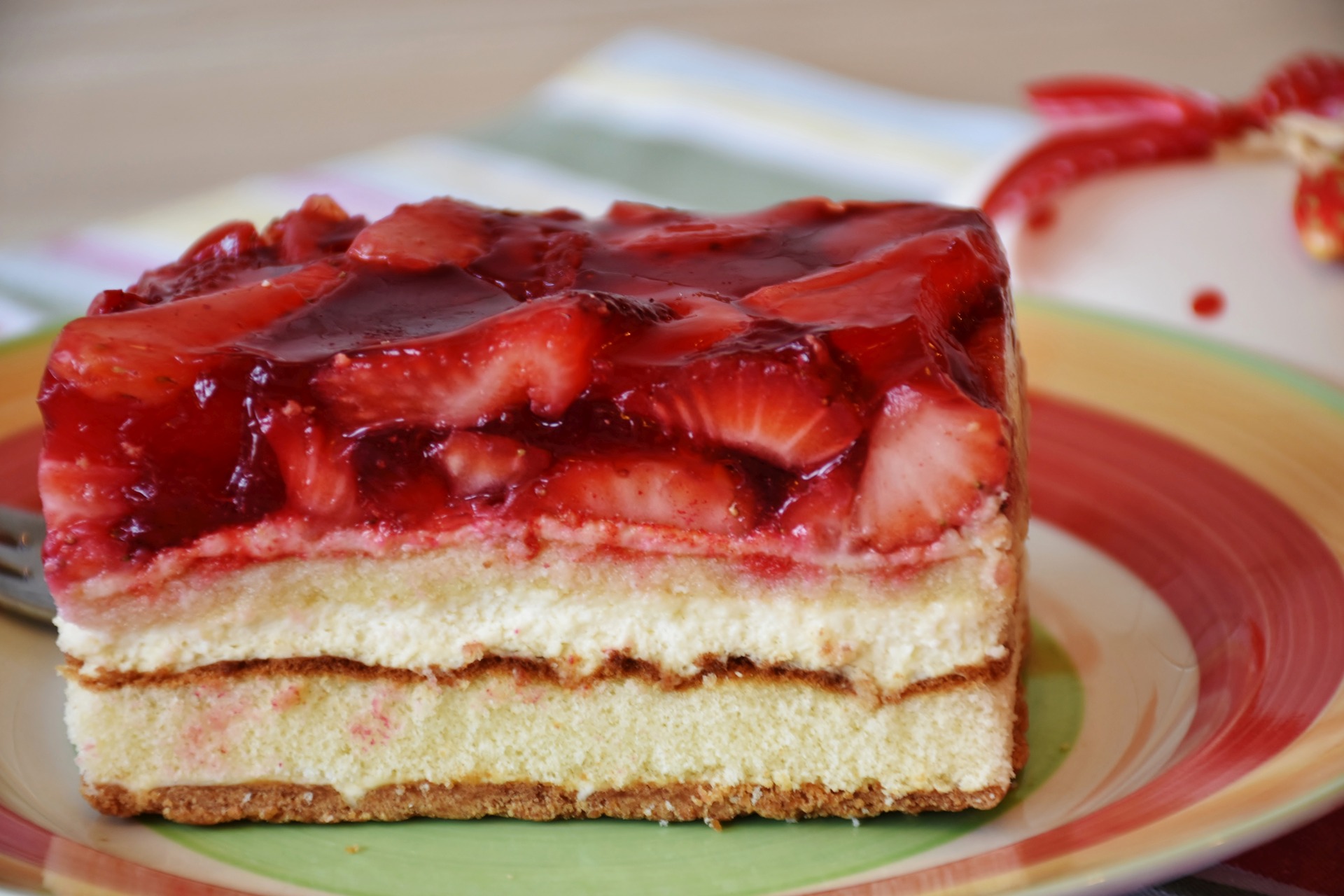 This is the cake recipe that you've been waiting for. Creamy and silky cheesecake combined with silky smooth filling and a fresh and sweet strawberry topping to complete a gorgeous and delicious cake that's perfect for any birthday parties or for dessert after dinner with family and friends. Slice into 8-10 servings for everyone to enjoy.
Cheesecakes are definitely my family's favorite desserts to have. I probably already bought every kind of cheesecake at my local bakery that I remember all of them. It was when a friend brought me a slice of the most delicious cheesecake that the taste is new for me. I just had to make a recipe for it.
A cup of strong coffee is a great pair with this cheesecake, the taste will complement each other. Put in the fridge and a chilled cheesecake is super delicious and a perfect treat for a summer day. If you want to add something to it, chop some fresh fruit and scatter them on top of the cake.
Ingredients for Strawberry Vanilla Cheesecake
Crust:
5 oz. animals crackers (finely ground into crumbs)
3 tablespoons granulated sugar
5 tablespoons unsalted butter (melted and kept warm)
pinch of salt
Cheesecake filling:
2 lbs. cream cheese (4 8-ounce blocks), room temperature
6 large eggs (lightly beaten)
2 vanilla beans
1 ¼ cups sugar
1 tablespoon vanilla extract
1 teaspoon lemon zest
¾ cup sour cream
Strawberry topping:
1 – 2 lbs. fresh strawberries (cleaned and hulled)
1 teaspoon fresh lemon juice
1 teaspoon vanilla extract
½ cup strawberry preserves
tiny pinch of salt
How to Make Strawberry Vanilla Cheesecake
In the middle of the oven, position a rack and preheat to 325 F.
For the crust:
In a medium microwave-safe bowl, melt the butter in the microwave while covered then brush a 9-inch springform pan with the butter. Stir the remaining butter with the crumbs, sugar, and salt. Over the bottom of the pan, press the crumb mixture, carefully get the crust evenly into the edges. Bake for 15-18 minutes, until golden brown. Cool.
For the filling:
Using a stand mixer, beat the cream cheese on medium speed then add 1 ¼ cups sugar and beat until light and fluffy, scraping the sides of the bowl and beaters as needed. Add the vanilla beans and beat until evenly combined. Beat in the sour cream, then eggs, lemon zest, and vanilla extract; be careful not to over whip. Pour into the cooled crust.
For about 70 minutes, bake the cheesecake on a large baking sheet until an instant-read thermometer registers 150 degrees. The center should have a slight jiggle while the outside should set. Remove from the oven, run a knife around the edges, and cool to room temperature for at least 3 hours. Cover and refrigerate an additional 4 hours or overnight.
Clean and hull your strawberries before serving and set aside. Heat the strawberry preserves with the lemon juice and vanilla extract in a small saucepan over medium-high heat for about 5 minutes. Cool the strawberry preserve mixture in the fridge for about 1/2 hour or cool to the touch. On top of your cheesecake, arrange your strawberries and brush the strawberry mixture all over the berries.
Remove the springform ring, dip a knife in warm water, wipe dry before slicing each piece. Serve immediately and refrigerate any leftovers. Eat within 2 days. Enjoy.
To see other recipes for Strawberry Vanilla Cheesecake, check out:
http://www.recipe4living.com/recipes/strawberry_vanilla_cheesecake.htm
https://www.kitchensanctuary.com/no-bake-strawberry-and-vanilla-cheesecake/
https://carnaldish.com/recipes/dessert/cheesecakes/new-york-vanilla-bean-cheesecake-with-fresh-strawberries/