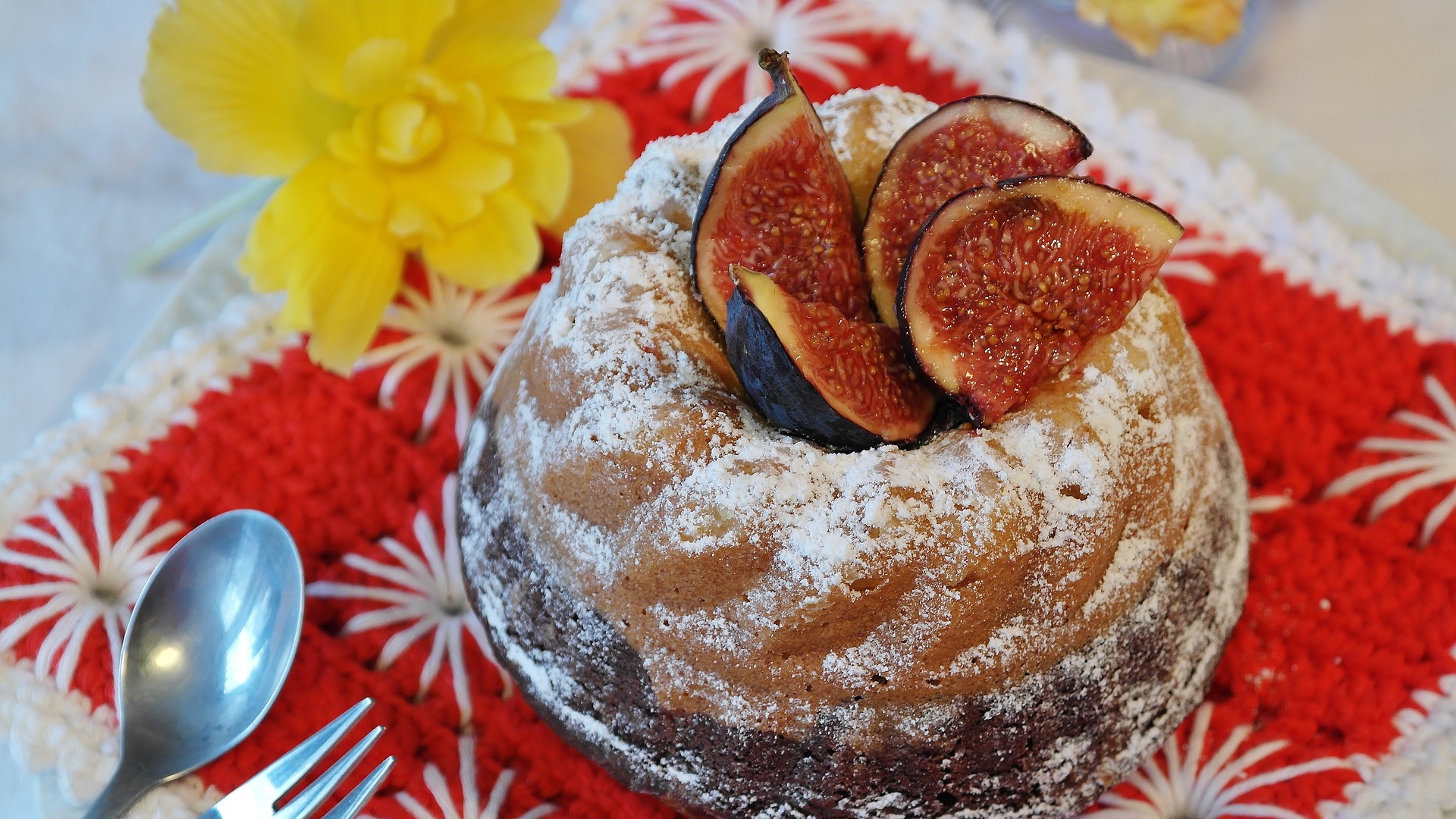 If you love figs, today I'm going to share an amazing recipe for a healthier but delicious dessert. We all know that fig is a great source of fiber and full of vitamins and minerals. Combine that with a delicious bundt cake and you have yourself a perfect summer dessert. Slice into 20 servings, enough for everyone in a family gathering or party.
I was looking for something to add to my already famous and highly in demand Bundt cake (in my family) to make it fresh, new, and maybe a little bit healthier. That's when I came across a stall selling fresh figs when I went to a farmer's market near my house. I bought some and it was delicious and fresh, a perfect addition to my bundt cake and I know my husband and kids will love them.
A scoop of vanilla ice cream to go along with the cake is a perfect combination and my kids finish theirs in a flash. For my husband and I, I added a little rum liqueur to give it a little bit of kick. Feel free to add your own touches to this recipe, add something that your family likes and I guarantee they will love it.
Ingredients for Fresh Fig Bundt Cake
Fresh Fig Cake:
2 eggs
2 cups all-purpose flour
1 ½ teaspoon ground cinnamon
1 ½ cups sugar
1 teaspoon vanilla extract
1 egg white
1 teaspoon baking soda
1 cup of buttermilk
1 cup coarsely chopped fresh figs (stems removed)
½ cup pecans (chopped)
1/3 cup canola oil
glaze
Glaze:
2 teaspoons light corn syrup
1 tablespoon butter
½ teaspoon vanilla extract
¼ cup of sugar
¼ cup buttermilk
¼ teaspoon baking soda
How to Make Fresh Fig Bundt Cake
For the fig cake; start by preheating your oven 350°F. Coat your Bundt pan with nonstick cooking spray. Cream vanilla, oil, and sugar in mixing bowl then add the eggs and egg white one at a time, beating well after each addition until creamy.
Combine baking soda, flour, and cinnamon in a small bowl. To the sugar mixture, add the flour mixture, alternating with buttermilk and ending with flour. Beat well after each addition. Stir in the pecans and figs. Bake until the top springs back when touched (40-45 minutes). Once done, allow the cake to cool for 10 minutes and then transfer to a serving plate. Pour the glaze over the hot cake.
For the glaze; combine all the ingredients in a small nonstick pot except vanilla and bring to a boil over medium heat (4 minutes) while stirring constantly. Add the vanilla and pour over hot cake and enjoy.
To see other recipes for Fresh Fig Bundt Cake, check out:
https://www.thenationalherald.com/135974/fig-cake-sikopita/           
https://thehealthycookingblog.com/fresh-fig-cake/
https://teaandscones.wordpress.com/2015/07/16/bundt-bakers-summer-fig-bundt/