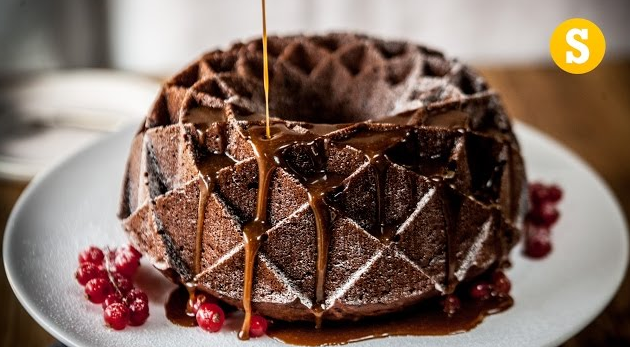 If you want to impress your guests and get that "wow" from them, this is the recipe to do it. This dessert is perfect for any occasion, and you can make it all year long. This will make about 4-6 servings with generous portions, but you better have a second one ready if you have more than 4 guests, you don't want to run out before everyone gets a slice.
I made this when my best friend just returns from overseas travel, and I want to make something special for her. This is her favorite dessert, and she always asks me when I will make it. I still remember the huge smile, and the eyes closed "mmmm" when she ate this.
The toffee sauce and warm custard is already the perfect finish for this delicious dessert. But if you prefer something else, don't let this recipe stop you from adding it — a sprinkle of cinnamon, walnuts if you like, or anything else.
Ingredients for Sticky Toffee Bundt Cake
CAKE
10 ounces of chopped dates (pitted)
1 ¾ cups water
2 teaspoon baking soda
8 ounces of salted butter
5 ounces of brown sugar
3 eggs
15 ounces of plain flour
1 tablespoon baking powder
1 tablespoon ground ginger
1 teaspoon salt
3 ½ ounces of chopped walnuts
TOFFEE SAUCE
3 ½ ounces salted butter
9 ounces dark brown sugar
1 cup golden syrup
¾ cup double cream
1 pinch of ground cloves
1 squeeze of lemon juice
1 teaspoon salt
1 tablespoon instant coffee
VANILLA CREAM
2 ¼ cups double cream
1 vanilla pod
6 egg yolks
6 teaspoons caster sugar
2 teaspoons cornflour
How to Make Sticky Toffee Bundt Cake
In a pan, soak the dates with cold water and baking soda, then heat to simmer. Cook for 5 minutes or until soft. Transfer into a bowl and allow to cool. For the Cake; preheat your oven to 170°C. In a large mixing bowl, beat the butter and sugar then add the eggs one at a time. Mix in half of the flour with salt, walnuts, baking powder, and ginger, then with water, and half of the date mixture. Beat until well combined, and then continue to beat with the other half of the flour and the remaining dates.
Greased a 2-liter Bundt tin, pour the mixture and bake until risen and deep golden color for about 45 minutes or a toothpick inserted comes out clean. To make the toffee sauce, mix all the ingredients into a pan and then heat slowly. Simmer for 5 minutes and then remove from the heat and allow to cool. 
Poke holes in the cooked Bundt sponge with the handle of a wooden spoon and drizzle the toffee sauce into each hole. Return the cake to the oven for another 10 minutes.
For the vanilla cream: Heat the double cream along with the vanilla pod seeds in a saucepan. In a separate bowl, whisk the egg yolks, caster sugar, and cornflour. Gradually add the hot cream on the egg yolk mixture while whisking, then return everything to the saucepan. Cook over medium heat and continuously stir the mixture until it thickens. Let it simmer for 2 minutes and then transfer to a jug to serve.
Transfer the sticky toffee cake into a huge serving platter, drizzle toffee sauce and serve with vanilla cream. Enjoy.
To see the original recipe that inspired this one, check out the recipe for Sticky Toffee Bundt Cake found at SORTEDfood.