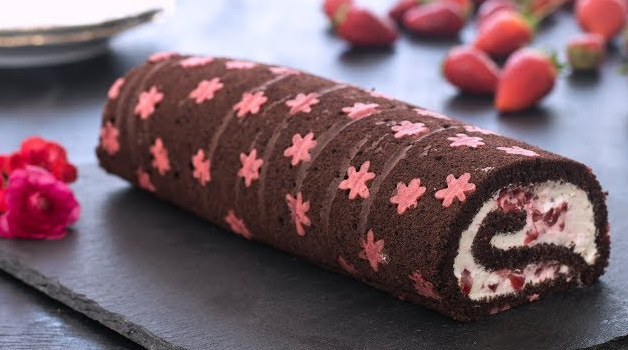 This chocolate sponge cake decorated with flower and filled with diced fresh strawberries, a light filling of white chocolate, and whipped cream. A perfect dessert when your daughter's friends have a sleepover and you want to serve something "cute". This recipe will make about 12 slices of delicious and beautiful dessert.
I personally never had this particular dessert until recently. I was in my usual bakery wanted to buy my usual sweets when the store clerk told me that they have a new menu, and it was this gorgeous roll. I was immediately hooked and now, it's one of my favorite desserts.
There's chocolate, strawberries, and a sweet filling. What more could you ask in a dessert? Add a little something that can make this dessert even more delicious. A glass of milk, top with ice cream, or if you serve them for your friends, a nice, hot cup of latte is an excellent combination.
Ingredients for Chocolate Strawberry Swiss Roll
FOR FLOWER PATTERN
1 small egg
2 tablespoons sugar
1/3 cup plus 1 tablespoon all-purpose flour
1 tablespoon butter (melted)
red food coloring
CHOCOLATE SPONGE CAKE
4 eggs
1/2 cup sugar
2 tablespoons vegetable oil
1 teaspoon vanilla extract
1/3 cup plus 1 tablespoon all-purpose flour
1/3 cup dark unsweetened cocoa powder
1 teaspoon baking powder
1/2 teaspoon salt
FILLING
5.5 oz white chocolate
3 tablespoons whipping cream
1 cup whipping cream (chilled)
9 oz fresh strawberries (finely diced)
How to Make Chocolate Strawberry Swiss Roll
First, prepare the batter for the flower pattern. Grease a 12×16 inch (30x40cm) baking sheet. Add the flower pattern paper and on top, add a parchment paper. Whisk egg with sugar in a medium bowl until combined then add the flour and melted butter and the red food coloring, whisk to combine. Transfer the batter into a piping bag. Pipe flowers onto the parchment paper gently. Until you prepare the sponge cake batter, freeze the baking sheet.
Preheat the oven to 350F. Whisk cocoa powder, flour, salt, and baking powder in a medium bowl. Set aside. Add eggs and sugar in a large bowl and with an electric mixer, beat until foamy. Add the vanilla extract and oil next and mix well then add the flour mixture gradually. Into the prepared baking sheet, pour the batter over the frozen flowers and using the back of the spatula, spread into the corners. Bake for about 10-12 minutes. Sprinkle with powdered sugar so the cake doesn't stick. Flip the cake over the paper and remove the parchment paper. Flip once more and with the parchment paper inside, roll while it's still hot (do it while is still hot/warm otherwise it cracks). Let cool completely.
In a heatproof bowl, put the chocolate and 3 tablespoons of cream, place over a pan with simmering water and melt over low heat. Cool to room temperature.Whip cream in a different bowl until stiff peaks form. Fold in melted chocolate gradually. Unroll the cake and evenly spread the chocolate filling over the cake leaving about 1-inch border. Over the filling, sprinkle the fresh strawberries. Roll the cake back up and before serving, refrigerate for 2 hours. Serve and enjoy.
To see the original recipe that inspired this one, check out the recipe for Chocolate Strawberry Swiss Roll found at Home Cooking Adventure.