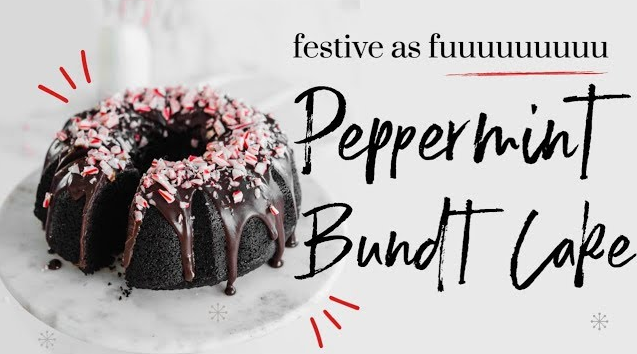 Make this delicious, moist, and sweet cake for the holiday season. The cool flavor of the peppermint will make you feel that cool breeze. This recipe will make about 8 servings with generous portions.
Bundt cakes are a staple in my family for every holiday season. My mother used to make vanilla, chocolate, lemon, etc. Today, I want to make something that's a little bit different by adding peppermint but still have that delicious Bundt cake base that I love
You can add any number of toppings for this cake; strawberries and crème fraiche, melted chocolates, vanilla ice cream with sliced almonds, whatever you like. Add your own personal touch and see the happy faces that you bring with this cake.
Ingredients for Peppermint Bundt Cake
FOR THE CAKE:
1 1/2 cups all-purpose flour
1 1/2 cups granulated sugar
3/4 cup cocoa (sifted)
1 1/2 teaspoon baking soda
1 teaspoon baking powder
1 teaspoon salt
1/4 cup vegetable oil
1 cup sour cream
1 cup strong brewed coffee hot
2 large eggs
FOR THE PEPPERMINT GANACHE
4 oz semi-sweet chocolate (roughly chopped)
1/2 cup heavy whipping cream
1 teaspoon peppermint extract (more for stronger)
1/2 cup candy canes, crushed (for decoration)
How to Make Peppermint Bundt Cake
For the cake;pre-heat your oven to 350F. Prepare a Bundt pan with cocoa and butter, or baking spray. Add the dry ingredients together in a large bowl, whisk to combine. Add the wet ingredients in a medium bowl and whisk to combine. Add the wet ingredients into the dry and beat until smooth. Pour the batter into the prepared Bundt pan and bake for about 60-65 minutes. Remove from the oven and cool for about 15 minutes in the pan, then onto a cooling rack, turn it out to finish cooling completely.
For the ganache; in a heat-safe bowl, put the chocolate and set aside. Warm the heavy cream until about 90-100F in a saucepan over medium heat. Pour the cream over to the chocolate and sit for about 2 minutes, then stir to combine. Add the peppermint extract and mix until smooth. Set aside and allow to cool and thicken for about 20-30 minutes.
Assembly and decoration; place the Bundt on a serving platter or a cake stand. Drizzle the ganache over the cake by using a spoon(if you find it too thick, you can warm it in the microwave for about 10 seconds). Finish with crushed candy canes, serve, and enjoy.
To see the original recipe that inspired this one, check out the recipe for Peppermint Bundt Cake found at Meghan Rienks.