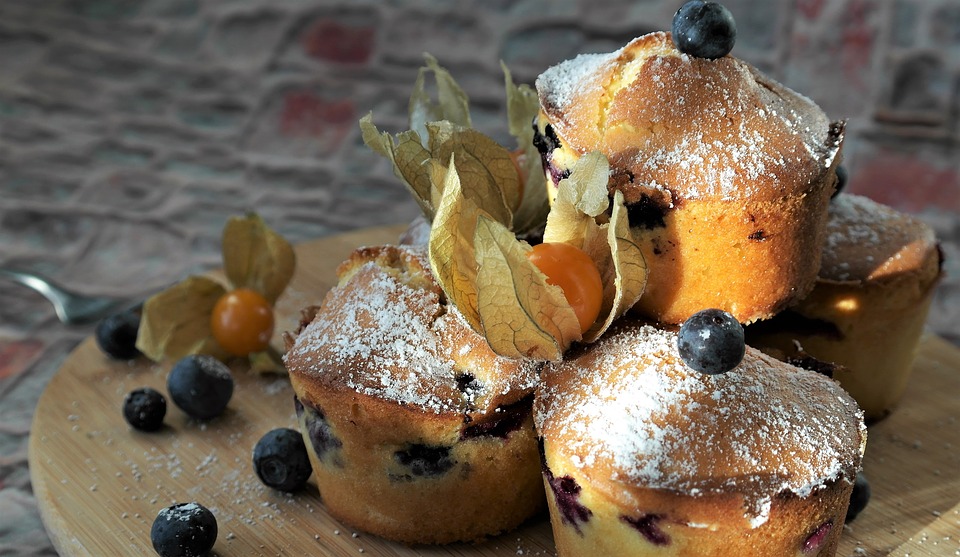 Craving for a nice and decadent dessert, but still, want to keep an eye to the calorie count? How about a batch of homemade Healthy Blueberry Muffins? With having a whole list of healthy ingredients, these will satisfy your need for sweets, but will still provide your body will the needed nutrients.
You can't, but love muffins. What can be more simple than mixing dry and wet ingredients, and dividing the dough into a muffin tray?
They are so easy to make, and even beginners without any experience can make a good batch. All you need to do is to stick to this recipe, and you will have the best moisty and fluffy muffins. Blueberries will add a quick lift with their sour note and improve the overall flavor, so make sure that you get fresh and juicy ones.
I am pretty sure that this recipe will become your favorite one. The best part is that this is an excellent idea for a healthy and tasty breakfast prepared ahead. This will save you in those busy mornings and provide you with quality ingredients for a good start of the day.
Ingredients for Healthy Blueberry Muffins 
1 ¾ cup whole wheat flour 
 1 teaspoon baking powder 
 ½ teaspoon baking soda 
 ½ teaspoon salt 
 ¼ teaspoon cinnamon 
 1/3 cup extra virgin olive oil 
 ½ cup honey 
 2 eggs 
 1 cup greek yogurt 
 2 teaspoons vanilla extract 
 1 cup fresh blueberries 
 1 tablespoon brown sugar
How to Make Healthy Blueberry Muffins 
Preheat your oven to 400 degrees F or 200 degrees C. Grease well a muffin tin with butter and set aside.
In a large bowl, combine the dry ingredients: flour, baking powder, soda, salt, and cinnamon.
Using another bowl, combine the wet ingredients: olive oil, honey, eggs, greek yogurt, and vanilla extract. Mix well until fully incorporated. Add in the dry ingredients and whisk with a wire whisk until combined but do not over mix it. Add in the blueberries and mix well. (save some to decorate the tops of the muffins). Transfer the batter in each muffin cup with the help of an ice cream scoop. Decorate each muffin with extra blueberries on top and a pinch of brown sugar. Pop these muffins in the oven and bake for exactly 18-20 minutes. Serve while they are cooled or at room temperature.
To see other recipes, check out: 
https://www.wellplated.com/healthy-blueberry-muffins/
https://amyshealthybaking.com/blog/2016/01/14/the-best-healthy-blueberry-muffins/
https://cookieandkate.com/healthy-blueberry-muffins/