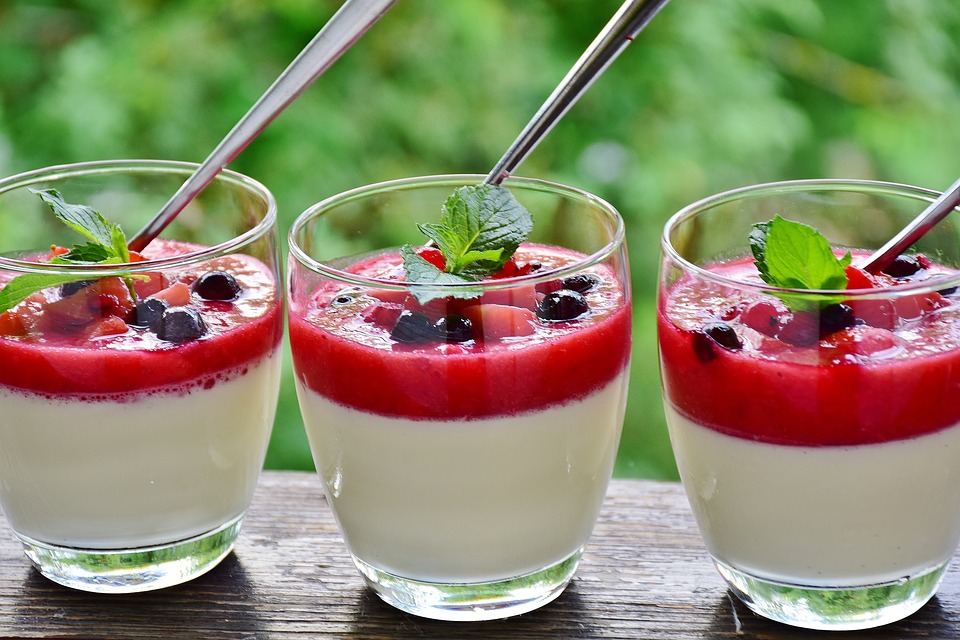 Fresh berries on top of smooth and creamy panna cotta? Yes, it is one of my favorite matches and food pairings. Perfect for spring and summertime entertaining, this Vanilla Panna Cotta with Mixed Berries recipe will make you a queen (king) of making desserts. 
The great thing is that you can make this recipe just before the guests arrive, and while you have a welcoming toss, lunch, and small talks, they will chill and set in the fridge. You will end up having a nice looking dessert at the end of the dinner, which everyone will go nuts for. Also, you can combine the flavor, and instead of vanilla-flavored Panna Cotta, you add a rum and bring it to a whole another level. You can play around with the topping, and instead of mixed berries fruit on top, you can add some citrus flavors and make it your own version. 
I love when recipes are versatile, just like this is, and you can combine it with so many other combinations, so you will be able to create your own signature flavors and show off in front of the guests. 
Ingredients for Vanilla Panna Cotta With Mixed Berries
For the White Panna Cotta: 
 3 cups double cream 
 A ¼ cup of milk 
 3 leaf gelatin sheets 
 ½ cup granulated sugar 
 2 tablespoon vanilla extract 
 ¼ cup white wine 
For the mixed berries sauce: 
2 cups mixed berries
 2 tablespoons of lemon juice 
 1 tablespoon of sugar 
 1 teaspoon vanilla extract 
How to Make Vanilla Panna Cotta With Mixed Berries
In a saucepan, over medium heat, add in the double cream, milk, granulated sugar, and vanilla extract. Bring this mixture almost to a boil. 
Soak up the gelatin leaves aside and add them into the hot mixture. Stir until melted and dissolved and pour the Panna Cotta mixture in glasses. Let it sit for a couple of hours to set, and while that Is sitting aside, make the mixed berry sauce. 
In a saucepan, over medium heat, bring to boil berries, lemon juice, sugar, and vanilla extract. Let it cook until it thickens a little bit and pour it over the set Panna cottas. Let it cool completely and serve. 
To see other recipes, check out: 
https://www.tasteofhome.com/recipes/panna-cotta-with-mixed-berries/
https://www.visitmorningtonpeninsula.org/PlanYourTrip/Blog/TabId/365/ArtMID/944/ArticleID/7/Recipe-Vanilla-Panna-Cotta-with-Mixed-Berries-.aspx
https://www.epicurious.com/recipes/food/views/vanilla-panna-cotta-with-mixed-berry-compote-106858