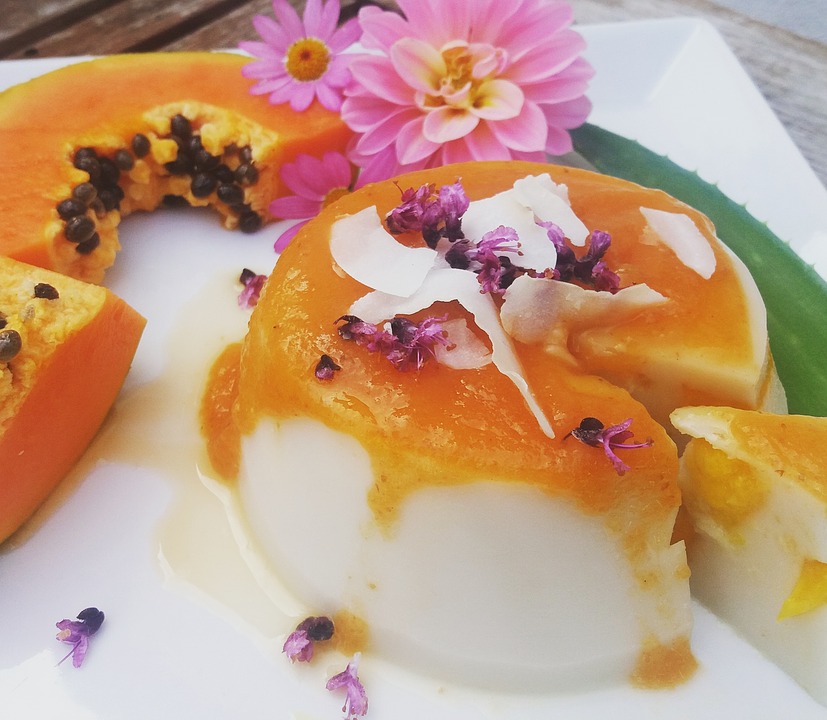 Some of you like your Panna Cotta with just nothing on top, but some of you like it with rich and elegant sauce on top, drizzling and pouring on the sides of the Panna Cotta. Today, I have something very elegant and special for you, guys. This upside-down Panna Cotta with Papaya Coulis will amaze not only you but all of your friends and family. It is so elegant to present in a crowd and so easy to make. All you need to do is boil some cream, make delicious papaya coulis and wait until it sets.
If you are planning for a birthday party instead of cake, why not serve this delicious and unique dessert in mini individual portions? People will feel like you cared for each and every one of them equally.
Ingredients
For the White Panna Cotta:
 500 ml. double cream 
 A ¼ cup of milk 
 3 leaf gelatin sheets 
 ½ cup granulated sugar 
 2 tablespoon vanilla extract
For the Papaya Coulis: 
 2 cups chopped papaya
 2 tablespoons of lemon juice 
 1 tablespoon of sugar
How to Make Panna Cotta With Papaya Coulis
To make the papaya Coulis in a saucepan over medium heat add in chopped papaya, sugar, and lemon juice. Bring it to a boil and then pour the mixture in bowls where you will put the pannacotta to set.
In a saucepan, over medium heat, mix the double cream, milk, granulated sugar, and vanilla extract. Bring this mixture to almost to a boil.
Soak up the gelatin leaves aside and add them into the hot mixture. Stir until melted and dissolved and pour the Panna Cotta mixture in bowls on top of the papaya coulis. Let it sit for a couple of hours and flip on to a serving plate. The sauce should run all over the panna cotta.
To see other recipes, check out: 
https://www.tasteofhome.com/recipes/panna-cotta-with-papaya-coulis/
http://owwmedia.com/2019/03/perfect-papayas/
https://www.thechairmansbao.com/how-to-make-simple-papaya-coconut-panna-cotta/