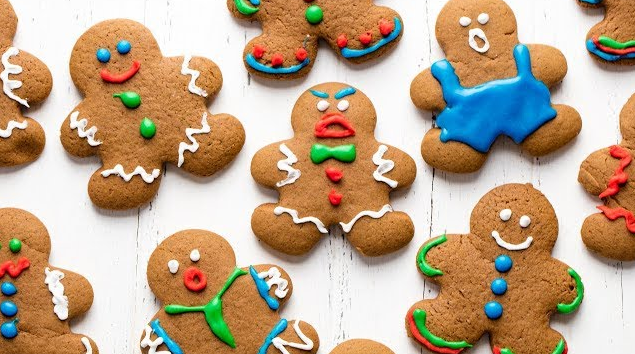 Such classic and popular Christmas cookies that it's so familiar and enjoyed all over the world. And you can have so much fun making it and shape them to any Christmas theme decorations. This recipe will make 12 gingerbread men cookies for everyone in the family to enjoy.
I honestly can say that Christmas will not be complete without these delicious and classic cookies. My mother always makes them every Christmas and she will make it into at least 3 shapes, gingerbread men, tree, and one shaped by request. These cookies will always be gone in a short time.
The fun part of making these cookies is to decorate them, you can make the gingerbread men cookies have different faces, the trees with different ornaments, etc. Or, you can also coat them with melted chocolate, dust them with powdered sugar, the options are endless.
Ingredients for Gingerbread Cookies
6 tablespoons salted butter (softened)
1/4 cup brown sugar (tightly packed)
1/3 cup dark molasses
1 large egg
3/4 teaspoon ground cinnamon
3/4 teaspoon ground ginger
1/2 teaspoon ground allspice
1/2 teaspoon ground cloves
1/2 teaspoon baking soda
1/4 teaspoon salt
1 3/4 cups all-purpose flour
YOU WILL ALSO NEED:
1 gingerbread man cookie cutter (or other shapes)
royal icing, for decorating
How to Make Gingerbread Cookies
Cream butter and brown sugar using a hand mixer or stand mixer until fluffy. Add in the egg, cinnamon, molasses, ginger, allspice, cloves, baking soda, and salt and mix until smooth. Add the flour until well incorporated. Remove the dough and wrap the dough in plastic wrap and refrigerate for 1 hour.
Preheat your oven to 350 F. Line a baking sheet with parchment paper. On a floured surface, roll the dough to about 1/4-inch thickness. To cut out the cookies, use a gingerbread man cookie cutter. On the prepared baking sheet, lay cut the cookies1 – 2 inches apart. Until the dough is gone, re-roll as necessary to cut out the cookies. Bake in the oven for about 10-12 minutes. Before removing and cooling on a wire rack, let cool on a pan for about 2 minutes. Cool completely before decorating. Serve and enjoy.
To see the original recipe that inspired this one, check out the recipe for Gingerbread Cookies found at The Stay At Home Chef.