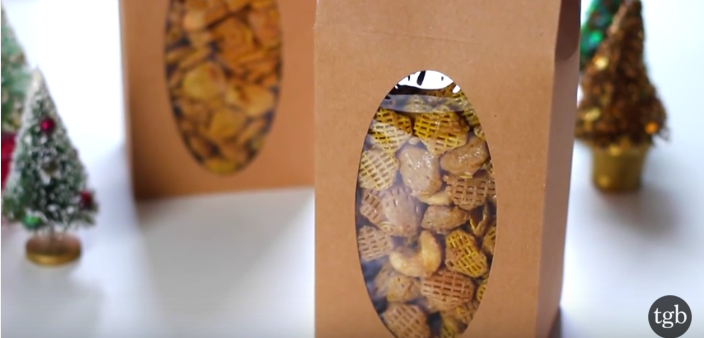 Love making edible gifts to give to family or friends ? , well here for you is an amazing recipe for caramel nut crispix that has that wonderful flavour of sweet and salty and caramel that we all seem to love as a combination
I really love this idea and will be trying it out for myself as it looks so delicious that is is so worth giving it a go
This great recipe is brought to you by The Gray Boxwood on YouTube , thanks for sharing this recipe idea with us
Here below is a list of the ingredients you will need to make this recipe along with how to make it with the video as well from the YouTube channel
INGREDIENTS

– 1/4 cup white corn syrup
– 1/2 cup unsalted butter
– 1 cup light brown sugar
– 1/2 teaspoon baking soda
– 1 1/4 cups cashews, roasted and salted
– 12 cups Crispix cereal

INSTRUCTIONS

Place cereal and cashews in large bowl and set aside. In a medium saucepan, bring corn syrup, brown sugar and butter to a low boil over medium heat. Boil lightly (slightly harder than a simmer) for five minutes.

After five minutes, remove from heat and immediately stir in baking soda until completely incorporated. Mixture will become foamy and grow in volume.

Pour mixture over prepared cereal and cashews. Use a large spatula or spoon and mix gently but thoroughly. Mix to coat all of the cereal with the caramel mixture.

Pour into two large baking pans and place in preheated 200-degree oven for one hour, stirring every 15 minutes. Let cool and store in airtight container.