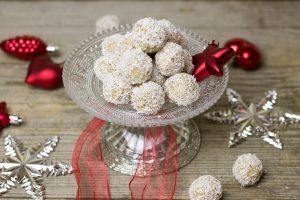 If you are craving for something a little bit different but still rich in flavor, this is the recipe for you – No-bake coconut balls. It is something that will blow your mind when you will bite into it. You can make it in just a few minutes; all you need to do is roll them and enjoy them.
Coconut adds an exotic hint in the recipe, and that's why you are going to love them. Even if your guests are coming over in half an hour or next hour you don't have to panic. You are in the right place right now to find the fastest recipe for a delicious dessert.
The combination of coconut flakes with roasted almonds is insanely great. But if you like a little bit of intense aroma of the almonds, don't you worry just add a splash of almond extract, or if you are not such a fan of that add in some vanilla extract. Both will do the job. 
Ingredients for No-Bake Coconut Balls 
1 cup ground graham crackers 
 1 cup powdered sugar 
 1 ½ cups of unsalted butter, room temperature 
 2 cups of powdered milk 
 1 teaspoon of vanilla extract or almond extract 
 2 ½ cups shredded coconut flakes, divided
How to Make No-Bake Coconut Balls
In a large bowl, combine all of the ingredients together and press with your hands to make a dough consistency. If the dough is too dry, add a splash of water. Using about one tablespoon of the mixture, form a ball and then roll it on the coconut flakes. Serve and enjoy.
To see other recipes for No-Bake Coconut Balls, check out: 
https://www.annsentitledlife.com/recipes/no-bake-coconut-balls-recipe/
https://www.sweetashoney.co/no-bake-coconut-balls-recipe-healthy/
https://www.melaniecooks.com/coconut-balls/14959/