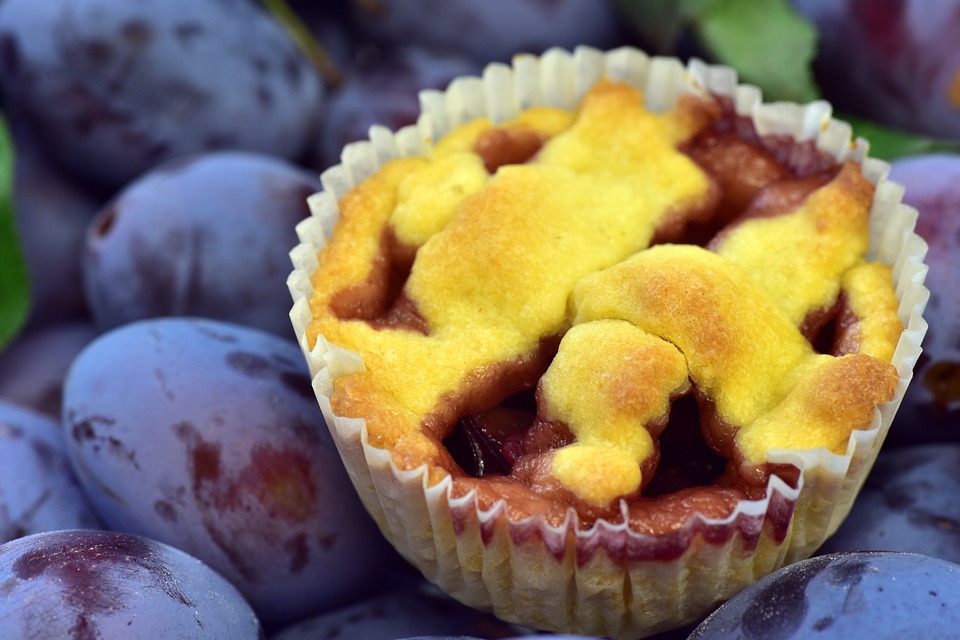 Fruits are an excellent ingredient for baking, because of the unique aroma that they bring. The combination of a butter-rich dough and fresh fruits full of flavor is a match made in heaven. And this plum cupcakes recipe is proof that even the simplest combinations can work. This will amaze all the people that are addicted to baking, as well as the ones that are beginners in this field. It is quite simple, but rich with flavor. 
The presence of cinnamon and butter will make sure that your house smells like an expensive bakery, that makes only the finest and most luxurious desserts. The flavor-rich dough is an excellent base for something fruity and refreshing. And here come the plums as an excellent addition on top. A few sliced ripe plums on top will work a miracle for this recipe and turn it into a delightful treat. Pop them into the oven, and watch them turn golden brown. No one can resist the combination of unique flavors, so you will need to make a second batch as well.
Ingredients for Plum Cupcake 
1 ½ cup all-purpose flour 
 2 teaspoons baking powder 
 ½ teaspoon salt
 ½ teaspoon cinnamon 
 5 tablespoons butter, softened
 3/4 cup light brown sugar 
 2 teaspoons vanilla extract 
 2 large eggs
 1/3 cup vegetable oil 
 zest of one lemon 
 8 ripe plums   
How to Make Plum Cupcake 
Preheat your oven to 350 F degrees or 170 C degrees. Line a muffin tin with muffin cups and set them aside. 
In a large bowl, combine the dry ingredients: flour, baking powder, cinnamon, and salt. Whisk them together and set them aside. 
In another mixing bowl, beat in the butter alongside with brown sugar until fluffy and combined. Add in the eggs, one at a time beating well between each addition. Add in the oil, vanilla extract, and lemon zest. Mix well and with the help of an ice cream scoop, scoop out of the batter and feel each muffin cup ¾ of the way full. Arrange some sliced ripe plums on top and bake the muffins for about 20 minutes or until golden brown.
To see other recipes for Plum Cupcake, check out:
https://www.cupcakeproject.com/plum-cupcakes-almost-like-plum-tarts/
http://churchresources.com.au/plum-polenta-cupcakes/