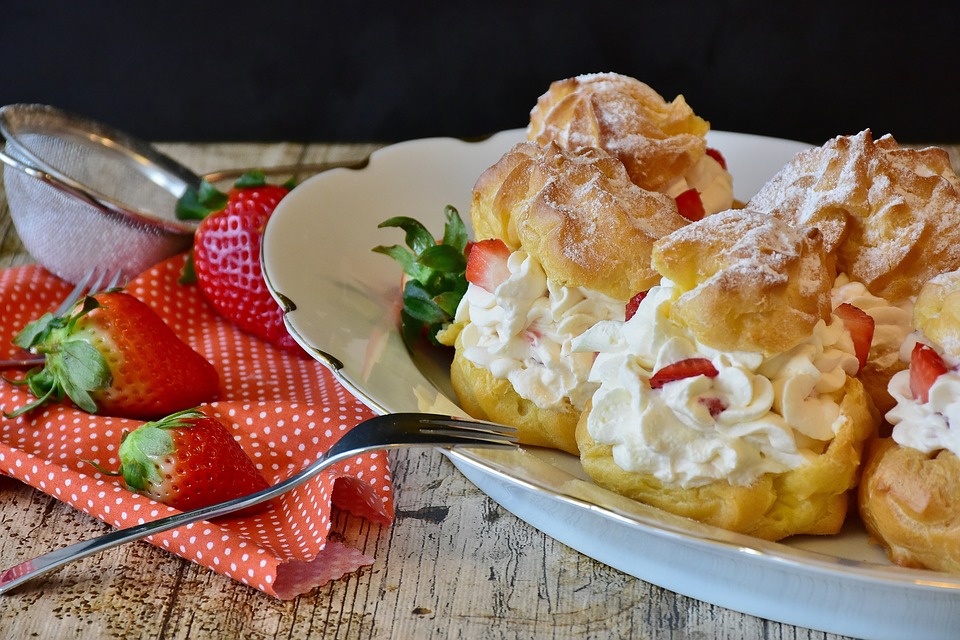 Strawberries will always accompany an elegant and decadent dessert. They are the most favorite fruit when you are trying to come up with tasty sweet treats. Whether you pair them with chocolate, whipped cream, or champagne, you can never go wrong. And these strawberry cream puffs are an excellent way to use the fresh ones that you saw in the market.
A light and flaky dough are what hides the goodness inside, followed by surprise. Here comes the dreamy strawberry cream, that makes a great contrast with the outside. Layer by layer, you reveal the sweetest tastes hiding inside. These strawberry cream puffs will have you fall in love with the first bite. You will be happy to find out that you can make them easily, just follow the simple recipe.
 This is the ultimate recipe for a delightful dessert such as this one, that never fails. You can find the complete instructions and head to the kitchen so that they will be done as soon as possible. Don't forget to add some fresh strawberries as a final touch!
Ingredients
For the Choux pastry: 
1 cup of water
 ½ cup butter
 pinch of salt 
 1 cup all-purpose flour 
 4 large eggs 
For the strawberry filling: 
½ cup mascarpone cheese
 ¼ cup condensed milk
 1 cup heavy whipping cream 
 1 cup sliced strawberries
 icing sugar to decorate 
How to Make Strawberry Cream Puffs  
Preheat your oven to 425 F or 210 C degrees and line a cookie sheet with parchment paper. 
In a large saucepan over medium heat place in the water, butter, and salt. When it comes to a boil, add in the flour and with wooden spoon mix well until soft dough forms. Set aside from heat and add in the eggs, one at a time mixing well with a spoon until each egg is fully incorporated with the batter. Transfer the dough in pastry bag tipped with a round piping tip. 
Transfer the dough in the bag and pipe out 1 to 1 ½ inch dollops onto the prepared cookie sheet. Bake them for about 10 minutes at 425 F and then reduce the heat to 350 to bake them all through. Allow them to cool once baked, so you can cut them in half, and you can fill them with the strawberry filling later. Cool completely. 
In a mixing bowl, mix mascarpone cheese, condensed milk, and heavy whipping cream all together until stiff peaks form. Add in the sliced strawberries and mix until combined. Fill each puff with the strawberry cream and dust it with icing sugar to serve. Enjoy.
To see other recipes for Strawberry Cream Puffs, check out:
https://www.seededatthetable.com/cream-puffs-filled-with-strawberry-and-mascarpone/
https://tatyanaseverydayfood.com/recipe-items/strawberry-cream-puffs/
https://www.recipecommunity.com.au/baking-sweet-recipes/strawberry-cream-puffs/lapx3dkg-ba4f9-725901-cfcd2-1mypccjn