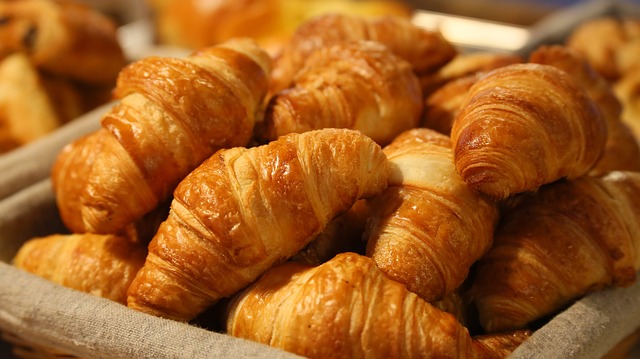 This recipe is a delightful way to start your day off—beautiful flavored croissant recipe for all of those who enjoy Italian and French cuisine.
I know that you need a pretty long time to prepare this yummy recipe but trust me, it is worth the effort when you will bite into this deliciousness you will even forget how long you have spent time in the kitchen. The best part of the recipe is that they can be made one day earlier so you will enjoy it's taste the next day. They are good warm, but the taste is even better when they are at room temperature.
These sourdough croissants are best enjoyed with chocolate ganache or perfect homemade apricot jam. Also, you can make a great impression if you make this sourdough croissants and show off in front of your friends in a weekend's gathering and trust me, they are that good that people will ask for the recipe and for the second piece.
Ingredients for Sourdough Croissants 
For the sponge pastry: 
 ½ cup refreshed the sourdough starter 
 2 tablespoons sugar 
 ½ cup of warm water 
 ¾ cup flour 
 small pinch of salt
For the butter mixture:
1 cup cold butter 
 2 tablespoons flour
For the dough:
1 cup flour 
 ¼ cup cold milk 
 1 teaspoon salt 
 3 tablespoons sugar   
 1 egg + 1 tablespoon of milk mixed for the glaze
How to Make Sourdough Croissants 
Preheat your oven to 375 F degrees or 190 C degrees. Line a cookie sheet with parchment paper, and then set aside.
To make the sponge pastry mix all of the ingredients required for the sponge pastry and set in a warm place to rest for about 3 hours.
Mix the butter with flour and transfer the butter-flour mixture in a parchment paper so you will shape it in 23×23 cm square.
Into a big bowl mix all of the ingredients required for the dough and add in the sponge pastry. Mix with a dough hook attachment until soft dough forms. Refrigerate for 30 minutes.
On a dusted work surface, transfer the dough and roll it out 38 cm x 25 cm long. Add in the square butter (already chilled) and fold the dough three times. Pinch the edges of the dough, so there is no butter shown. Roll out the dough into a rectangle and chill it in the fridge for about 30 minutes. Repeat the process of rolling out the dough again and folding it and let it rest for another 30 minutes.
To shape the croissants, cut the dough in six squares (12×12 cm). From each square cut diagonally to make 12 triangles. Roll each triangle into a croissant starting from the longest side to the point.
Arrange the croissants on a baking sheet and let them rise again on war place for an hour and glaze them with the egg and milk mixture. Bake for about 20 minutes and then turn the oven off and let them sit for another 10-15 minutes. They need to be golden brown and nicely puffed up.
To see other recipes for Sourdough Croissant, check out:
https://www.fromthegrapevine.com/israeli-kitchen/recipes/sourdough-croissants
https://www.shipton-mill.com/baking/recipes/sourdough-croissants.htm
http://milk-and.blogspot.com/2013/04/sourdough-croissants.html